GRAND FINALE
September 8, 2023 | 2:00 PM - 6:00 PM (GMT+5:30)
Chanakya Auditorium, REVA University,
Kattigenahalli, Yelahanka, Bengaluru - 560 064. Click here for Location
A Special Addition for Participants:
Exclusive E-Certificates for Participant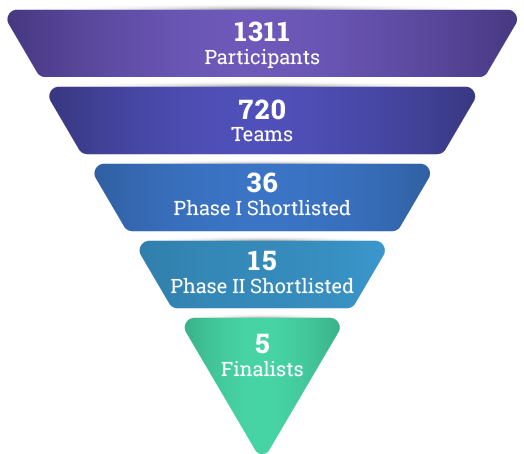 Hackathon Journey so far
From a large pool of 1311 participants and 720 teams registered for the initial phase of the Hackathon, we shortlisted the top 36 solutions in Phase I through a rigorous evaluation process based on technical competence and innovative solutions.
These shortlisted teams moved to Phase II where the task was to develop a working prototype of their AI model. After another round of technical evaluation, we have shortlisted an elite 15 teams who will now vie for the winners' slot during the Grand Finale.
On September 8th 2023, these ingenious 15 teams will compete for the final five slots, and five of them will emerge as the winners! We look forward to amazing solutions for building plastic-free rivers with AI and beyond. Best Wishes!
Why Attend
Plastic pollution poses a severe threat to our rivers and ecosystems, impacting aquatic life, water quality, and human health. By attending this grand finale, you'll have the chance to:
Get Inspired
Witness innovative AI-driven solutions that have the potential to revolutionize river cleanup efforts. Gain insights into the latest advancements in technology and environmental sustainability. 
Network with Experts
Connect with like-minded individuals, including AI experts, environmental activists, and technology enthusiasts. Forge valuable connections that could lead to future collaborations.
Make a Difference
By participating, you're supporting a critical cause – the preservation of our planet's rivers. Learn how your involvement can contribute to a plastic-free future for our waterways. 
Discover Solutions
Explore practical solutions that can be scaled and implemented in real-world scenarios. Be part of the movement towards cleaner, healthier rivers. 
Celebrate Excellence
Join us in celebrating the hard work and dedication of hackathon participants as they present their remarkable projects. Witness the announcement of winners and the recognition of outstanding contributions.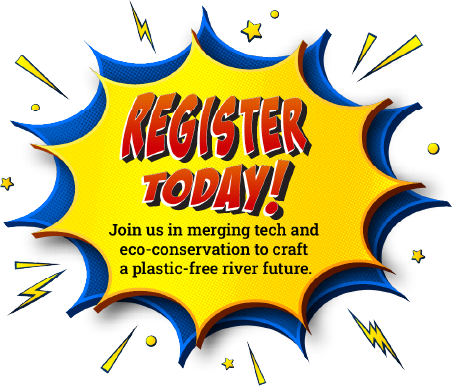 A Special Addition for Participants:
Exclusive E-Certificates for Participant
Agenda
Opening Remarks: 2:00 PM – 2:15 PM
Finalist Presentations: 2:15 PM – 5:30 PM
Awards Ceremony: 6.00 PM
Networking Dinner: 6:30 PM onwards
Meet face-to face with other innovators & practitioners
Networking Dinner in the evening
NETWORK WITH
INDUSTRY LEADER'S
Like and Follow us on Social Media