Grand Inauguration of Master's program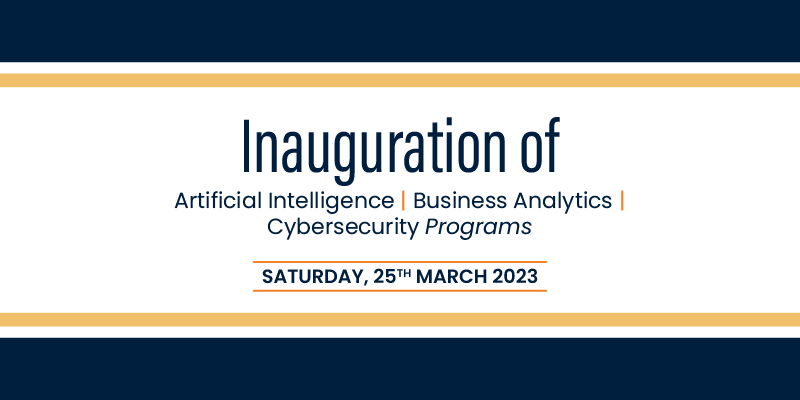 REVA Academy for Corporate Excellence, RACE, REVA University hosted a grand inauguration event on Saturday, March 25th, 2023 to introduce the Master's program in Business Analytics, Cybersecurity, and Artificial Intelligence. The event was a massive success, with over 100 plus online and offline participants and three renowned keynote speakers, Dr. Abhinanda Sarkar  a thought leader and consultant data scientist from COMPEGENCE, Deepa Seshadri  Partner at Deloitte  and Supria Dhanda  Executive Board Member at ABS India Pvt. Ltd. joining in.
Dr. Abhinanda Sarkar addressed "Emerging and disruptive technologies with AI and changing industry expectations", Deepa  Seshadri spoke on "The Future of Cyber", and Supriya Dhanda on  "Emerging Technological Trends and Lifelong Learning".
Dr. Abhinanda Sarkar in his keynote spoke on the importance of new and disruptive technologies in AI and the changing industry expectations. Dr. Sarkar explained how AI is enhancing the customer experience and process efficiency in the aviation industry IoT and sensor-generated data.
In the Q&A session that followed, Dr. Sarkar answered several questions from the participants. He spoke about the future of applications with embedded AI over the next decade and how AI would revolutionize various sectors. He also discussed the ethical and privacy concerns surrounding the use of AI and how industries must address these issues as they implement AI technology.
Deepa Seshadri, a cybersecurity specialist and partner at Deloitte, offered a fresh look at cybersecurity, not just as a safety or security problem, but also cyber as a business. Deepa Seshadri discussed how modern enterprises use ethical hackers to quickly discover security flaws, and also create alerts and solutions for such flaws. She also discussed the significance of digital transformation with cloud to 5G and also the concept of cyber insurance (an insurance product created to aid companies in protecting themselves from cyber incidents).
Deepa Seshadri's talk focused on the various cyberattacks and how they may affect organizations. She discussed phishing attempts that happen through email, SMS, and other media and how businesses need to be diligent in defending themselves against them. Deepa Seshadri's observations were all based on her decade-long journey of personal and professional experience in cybersecurity.
Supria Dhanda, an executive board member of ABS India Pvt. Ltd., spoke about the microenvironment of leadership challenges from various perspectives, including demographic, economic, political, ecological, socio-cultural, and technological. She provided valuable insights into the challenges that leaders face in navigating the various complexities of the modern business world.
Supria's session was very enlightening, as she provided a broader understanding of the various leadership challenges and how these challenges are interconnected. Additionally, she discussed the importance of leadership development, investing in strategic thinking big & beyond, and understanding their brand to help them be more effective.
The event was a grand success, with attendees gaining valuable insights into technologies that are transforming the business landscape. All three eminent keynote speakers added immense value to the event, and their sessions were appreciated by the audience.