Incident Response Management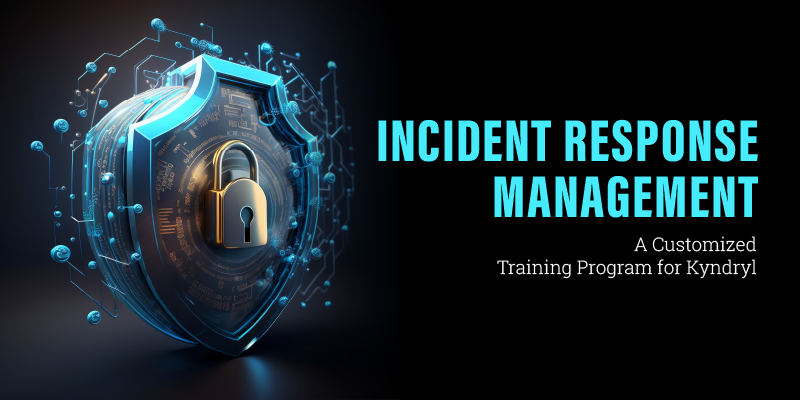 REVA Academy for Corporate Excellence, REVA University, has completed a training program on Incident Response Management for mid and senior-level executives of Kyndryl India in September 2022.
Participants Profile
This training program is designed for a team of highly proficient mid and senior-level executives of Kyndryl India. This training program on Cybersecurity is designed to provide an outcome-driven, skill-based learning opportunity to design a cyber-resilient organisation.
Program Design
The training combined conceptual and practical training, customised case studies, and role play to provide the required knowledge and skills in the ever-evolving cybersecurity landscape and frameworks to familiarise the learners with important dimensions of creating a secured organisation. The participants have been introduced to the need and know-how of cybersecurity concepts, frameworks, and attack vectors. The key concepts of SIEM technologies and the Security Operations Centre (SOC) are learnt with labs. Splunk and Azure Sentinel, among other tools, were used to train the participants on real-world incident handling.
The 60 hours of live training and 20-plus hours of online learning are divided into the following modules.
Cyber Security Overview & Foundations
Incident Response and Remediation with SIEM
SIEM Architecture and Components
SIEM Operations, Dashboards, and reports
Security Operations Centre (SOC) – Architecture and Operations
Incident Response Management
Program Delivery and Outcome
The program was delivered on a hybrid, online and offline training mode. Case studies and industry-specific use cases and scenarios were used to make the program as customised as possible. The participants were exposed to multiple use cases across domains. Continuous assessment and feedback were provided to improve individual and team efficiency. All the participants were awarded the certifications by Honourable Chancellor, REVA University, P. Shyama Raju.
Adarsh B, Director of Security Delivery at Kyndryl, who led the team in training, endorsed the training delivery. Adarsh says, "Our team wholeheartedly thank the RACE, REVA team for designing and delivering an excellent program on Incident management. We had a great learning experience with all the industry leaders, who did a fabulous job talking us through a real-time understanding of managing and responding to incidents through various labs and custom-made course materials.  Special mention to all REVA management and RACE team for their hospitality and all the arrangements made during the training, which made us feel very special. We look forward to extending this training for our new batches very soon".