Strategic Leader with a Strong Penchant to Succeed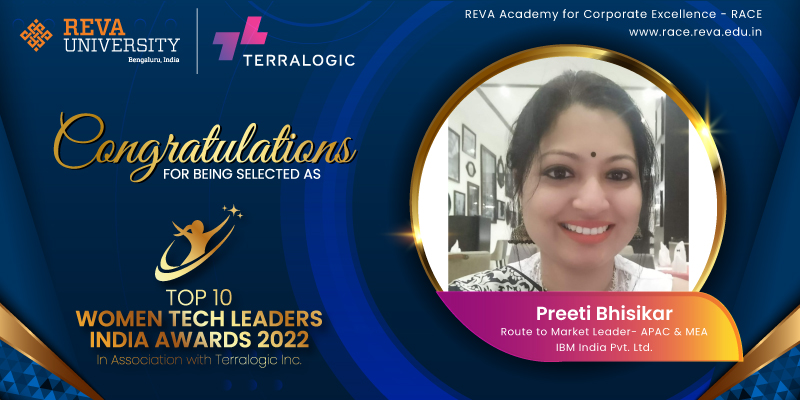 Preeti Bhisikar
Route to Market Leader- APAC & MEA, IBM India Pvt. Ltd
.
Preeti Bhisikar, Route to Market Leader- APAC & MEA, IBM India Pvt. Ltd., is a cybersecurity evangelist, Indian Army Veteran, Mentor, and Board member with 19 years of experience. She started her Cybersecurity journey in 2006 and since then has championed, inspired, and have led strategic and complex cybersecurity engagements for cross-industry clients.
She is also a Board Member of the non-profit Women in Cybersecurity (WiCyS) India Affiliate, a noted speaker at national and international forums and engages with multiple industry bodies worldwide such as the Data Security Council of India, Cloud Security Alliance, etc.
Strategic Leadership Roles
Preeti is known for her 'Growth Mindset' and 'Resilient' leadership style, she has stayed relevant by continuously upskilling in cybersecurity domains with the credentials such as CISSP, CDPSE, RSA Archer Certified, CISM, and CEH. She is a change agent, made a significant impact on the business growth and believes in driving value for clients with co-delivery and co-creation models for their managed security solutions as a trusted partner. She is a member of technical forum like IBM AOT (Academy of Technology) and have contributed to the development of initiative "Responsible computing for Data usage" framework, 'Cloud Security and Technology Maturity Survey – Research Report-2022' by CSA(Global) in association with CSA Bangalore, sponsored by CyberRes and authored "Help Reinforce Privacy through the Lens of GDPR" in IBM security intelligence .
Awards and Recognitions
Preeti has been instrumental in building the 're-entry' platform for Women in Technology (WIT)- an initiative to promote careers in cybersecurity for WIT and was honored as IBM-Face of India by IBM D&I team in the year 2019. She is recognized with IBM's prestigious Outstanding Technical Achievement Award (OTAA)-2021 and is also listed as the Top 3 WeQuity Techbeacon Industry Award. She is also a Board Member of non-profit Women in Cybersecurity (WiCyS) India Affiliate that was awarded the 2021 affiliate award.
Her creative thinking and commitment to women's empowerment have helped her to be a positive influencer. She has been featured as Women in Technology influencer in the spotlight series by WeQuity, an influencer in Wicys VIT Bhopal student chapter, cyber valentine influencer in WICSP community, and Career 180: Women in Security – EPISODE 6.
Social Influence
Preeti has been positive influence on women in technology with her courage to voice out and lead a social cause such as bridging gender disparity in cybersecurity, passion for excellence, mutual respect and with her commitment to pro-bono volunteering for community work such as Women in Cybersecurity (WiCyS) India affiliate board member.  She is the IBM India Women in Security Excelling (WISE) Country Leader – IBM women community to bridge the gender gap in Cyber Security space . Through all IBM India WISE volunteering initiatives executed in 2021, her team was instrumental in generating grants of $3K, which was utilized to extend support for 17 diverse charity organizations across India and funded for the empowerment of women & girls in India.
Preeti has counseled 200+ engineering college students with her expert talks and has been working for the digitally empowered society through awareness campaigns focused on the country's youth and children.
During the pandemic, her team worked on spreading the awareness on secure practices through campaigns viz. # IBMCyberDay4Girls, # BeCyberSmart, etc., and emphasized the need for 'CYBER AWARENESS' for children, She has been training girl students of underprivileged/government schools across India to be cyber smart. These campaigns are positively impacting society and future generations.
Future Aspirations
Preeti's outlook towards the future is to:
Become a trusted partner to offer innovative security solutions and keep making a significant business impact

Continue contributing to the cause of bridging gender disparity in the cybersecurity domain,

b

reak the barrier and elevate it to the next level   

Keep advocating and influencing more women to take up Cybersecurity as a career.