Tackling Plastic Pollution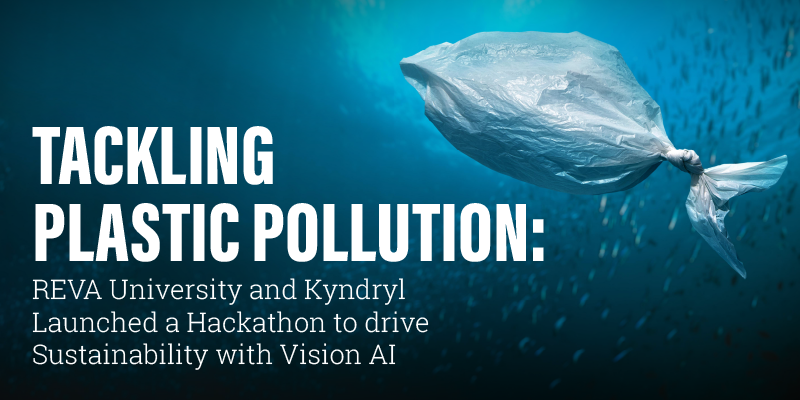 REVA University and Kyndryl
Launched Hackathon on Plastic-Free Rivers with AI
Plastic pollution in rivers has become a pressing global issue, threatening the delicate balance of our ecosystems and endangering marine life. To address this raising concern, REVA University, in partnership with Kyndryl, jointly started a pioneering initiative that aligns with the UN's Sustainable Development Goals, "Hackathon on Plastic-Free Rivers with AI" towards sustainability in combating the global challenge.
The Hackathon Launch Event
On June 9, 2023, the launch event for the "Hackathon on Plastic-Free Rivers with AI" marked the commencement of the hackathon initiative. The event garnered attention from environmental enthusiasts, technologists, and stakeholders worldwide. The global-level hackathon invites participants to develop AI solutions that can detect, classify, and segment plastics using drone images, providing actionable insights to stakeholders and empowering them to take preventive measures and clean up rivers.
The Honourable Chancellor of REVA University, Dr. P. Shyama Raju, inaugurated the Hackathon and expressed the institution's commitment to aligning academic activities with the United Nations' Sustainable Development Goals. Dr. Raju eagerly awaits innovative and practical solutions from AI experts that can effectively reduce plastic pollution in water bodies.
Naveen Kamat, Kyndryl India's Vice President and CTO of Data and AI Services, highlighted the company's ambitious goal to achieve carbon neutrality by 2040, aligning with the UN's Sustainable Development Goals. Kamat expressed pride in collaborating with REVA University on the hackathon, emphasising the focus on developing Vision AI-based solutions for detecting plastic waste.
During the launch event, Harish Shenoy, Director of Plastic Fischer India, shared insights into their efforts to clean up rivers across various locations in India, including Varanasi, Kanpur, Trivandrum, and Mangalore. Shenoy stressed the importance of tools and resources to enhance their work's global impact and expressed optimism that the hackathon's outcomes will significantly contribute to the collective fight against marine plastic pollution.
Dr. J.B. Simha, Chief Mentor of AI at RACE, REVA University, and CTO of ABIBA Systems, emphasized the need for AI-based solutions to identify plastic in water bodies effectively.
The hackathon invites a diverse range of professionals, including AI developers, architects, data scientists, ML engineers, programmers, freelancers, and students, to participate. To support the development of viable solutions, mentorship will be provided to the top entries by senior industry leaders from Kyndryl and RACE, REVA University. Promising AI-based approaches will be rewarded with attractive cash prizes, recognition, and other rewards.
To find more details about the hackathon, click here.
About REVA University:
REVA University is a prestigious private institution located in Bangalore, offering a wide range of undergraduate, postgraduate, and doctoral programs across ten faculties, including Engineering and Technology, Management, Science, and Legal Studies. The university's sprawling green campus features state-of-the-art infrastructure and caters to the learning needs of over 16,000 students. For more information about REVA University, please visit their official website: https://www.reva.edu.in/. The hackathon is hosted by REVA Academy Corporate Excellence (RACE), an initiative of REVA University, which provides specialized techno-functional programs tailored to meet the career advancement requirements of working professionals. To explore the programs offered by RACE, please follow this link: https://race.reva.edu.in.
About Kyndryl:
Kyndryl is the world's largest IT infrastructure services provider, operating in over 60 countries and serving thousands of enterprise customers. The company specializes in designing, building, managing, and modernizing complex and mission-critical information systems. Committed to sustainability, Kyndryl aims to achieve carbon neutrality by 2040, aligning itself with the United Nations' Sustainable Development Goals. To learn more about Kyndryl and its services, please visit https://www.kyndryl.com/in/en