REVA University Signs an MoU with EC-Council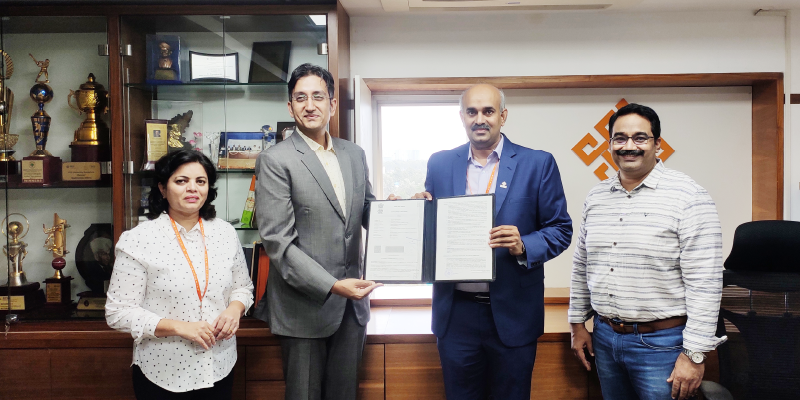 REVA University signs an MoU with EC-Council to Offer Cybersecurity Courses: In the picture, Dr. M Dhanamjaya, Vice Chancellor, Apoorba Kumar, Executive Director, EC- Council.
REVA University has signed an MoU with EC-Council, a global leader in InfoSec and Cybersecurity certification programs to offer in-demand courses that help to boost the skills of cybersecurity professionals.
This collaboration will help the university to launch co-branded and customized cybersecurity courses to discerning participants who will earn globally acclaimed certifications. The participants will access iLabs; EC-Council's cloud-based virtual labs to practice 100 plus exercises in a real-time environment. iLabs have preconfigured vulnerabilities, exploits, tools, and scripts that can be accessed from anywhere.
REVA Academy for Corporate Excellence (RACE), a division of REVA University, has currently integrated globally acclaimed professional certifications from EC Council, such as Certified Ethical Hacker (CEH), Certified Penetration Testing Professional, and Certified SOC Analyst (CSA) and other courses into both Masters (M.Tech and MSc) programs and short-term programs in Cybersecurity. With these certifications, the participants can position themselves as industry-ready as they acquire hands-on experience with simulated attacks.
Dr. P. Shyama Raju, Honorable Chancellor, REVA University, said, "We are glad to collaborate with EC-Council to strengthen our Cybersecurity programs.  This will be a great opportunity for our students to learn real cybersecurity skills in a virtual environment and earn global certifications, improving their employability. It affirms REVA University commitment to making high-end technical education available to everyone in the world."
Apoorba Kumar, Executive Director, EC- Council, said, "We are excited to collaborate with REVA University's Center of Excellence on Cybersecurity, to offer co-branded programs to empower the students and working professionals. As part of this association, the participants will be trained on important courses, CEH, CPENT, CSA and many more. We will take several initiatives in developing customized in-demand courses integrated with iLabs. We look forward to a great journey together with RACE, REVA University."
To know more about our partnership, click here
About EC- Council
EC-Council's sole purpose is to build and refine the cybersecurity profession globally. At the core of its mission is helping organizations, educators, governments, and individuals address global workforce problems by developing and curating world-class cybersecurity education programs and certifications while also providing cybersecurity services to some of the largest businesses around the world. EC-Council is trusted by seven of the Fortune 10, 47 of the Fortune 100, the Department of Defense, global intelligence communities, NATO, and more than 2,000 of the best universities, colleges, and training companies. Their programs have made their way to 140 countries and have set the bar in cybersecurity education. To learn more, visit https://www.eccouncil.org/
About REVA Academy for Corporate Excellence- RACE
REVA Academy for Corporate Excellence (RACE), REVA University aims to develop visionary enterprise leaders for corporates through advanced and integrated learning capabilities. RACE offers best-in-class, specialized, techno-functional, and interdisciplinary programs designed to suit the needs of working professionals. The pedagogy of each program incorporates social and experiential learning to build transformative proficiencies in every participant.