Bringing Change in Tech World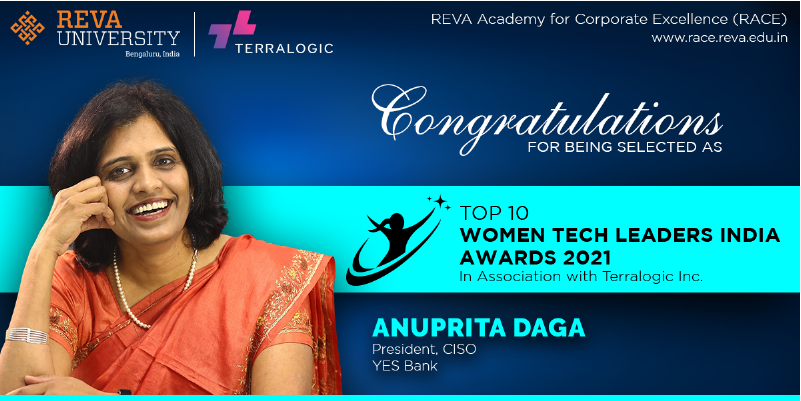 Anuprita Daga, CISO- Yes Bank, began her career in tech consulting and moved on to enterprise business that enriched her experience with business knowledge and on-field applications.
She participates in national and global forums to share her experience. She guides and mentors the women who connect with her. Read more to know why she has been selected for "Top 10 Women Tech Leaders India Awards-2021'.
Career in Tech
After completing her BE in Computer Science, Anuprita naturally got into the tech industry. In the early days of her career, she worked as a faculty member in an engineering college. She then changed her domain into tech consulting when working onsite was a huge issue for women. However, she relished being in a completely different environment and got exposure to every project and role. Then, she moved from consulting to enterprise business, which enriched her experience with business knowledge and on-field applications.
Confronting Challenges as a Tech Woman
The demand to work onsite during her tech consulting career had a direct impact on P&L and there was minimal value if one was not working onsite. Because of family requirements, going onsite was the last possible thing. Yet, she confronted the situation with much ease by keeping herself positive and the learning curve intact for growing in the career. She was very focused on the learning that helped her to generate new ideas to develop new projects or products.
Another disadvantage is not having time to socialize. Being a female of her generation, it becomes difficult to divide the time between office deliverables, home responsibilities and to top it all, socializing. Eventually, she found time to socialize and believes that keeping a few good friends who can help whenever one needed, focus on the work and everything else is good to have.
Less Women Participation in Tech
The problem starts as early as childhood because of the social conditioning and upbringing of a girl child. Females are expected to serve while men are considered as a worker or bread earner. This mind block is the biggest hindrance in providing or supporting tech women to continue their job, hence, there are a lot of dropouts at the mid-level. This is not only a problem for tech women but it is in all the industries and also a global problem.
It is recommended that women should not concentrate just on applying a job description that meets 100% of the qualifications or experience achieved. Deviate the path slightly and meeting 70% of the job description is enough to apply for a job so that learning can happen to reach 100%.
Do not go for perfection but keep the confidence to deliver based on the knowledge and try to acquire the rest of the knowledge from the job itself. Don't try to be perfect, try to take risks.
Advice to Aspiring Women in Tech
Be mentally strong and focus on your job or the actual delivery for which you have been hired is the most important and everything else is extra. No one is perfect, be it men or women. Give 100% efforts, results may be seen quickly or late but will be long lasting.
Inner motivation, strong willpower, and passion don't have competition. Be your competitor and continue to improve yourself. That's when you will be able to achieve your goals happily.
Women Support Initiatives
Anuprita Daga participates in national and global forums to share her mindset. She guides or mentors the women who connect with her. Furthermore, with the help of industry forums, her team will be launching a platform to form a mentor group that will be able to mentor the women candidates.
This group consists of a diversified group of men and women who will mentor as well as give opportunities to the right candidates. The group is dedicated to helping women to build skills for facilitating growth in personal and professional life. This platform has the potential to extend to other areas as well, in a way to make the rural women financially independent and self-sustainable.
Appreciations
Anuprita Daga has been selected for 'Top 10 Women Tech Leaders India Awards 2021' by REVA Academy for Corporate Excellence, REVA University in association with Terralogic Inc. and co-sponsored by CloudxLab.  Anuprita has been selected for this honor because of her tremendous experience in the enterprise business and her contributions to bring women to the frontline.