Change Maker in Information Security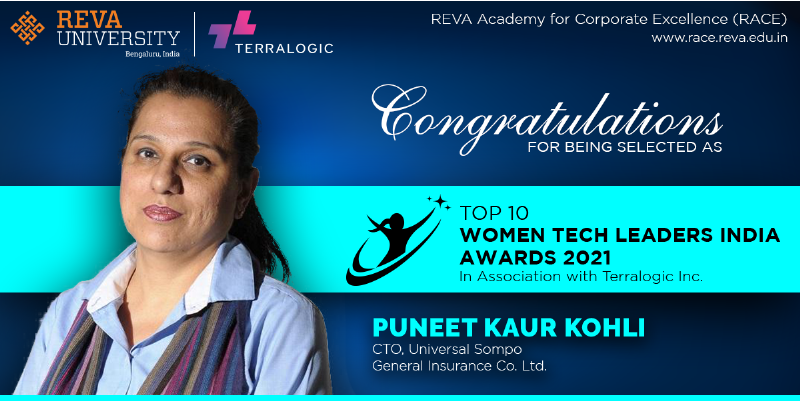 Dr. Puneet Kaur Kohli, Chief Technology Officer- Universal Sompo General Insurance Co. Ltd., has extensive knowledge in developing and employing strategic plans and end-user services that address the needs and promotion of the growth of the company.
Puneet brings her 25+ years of global experience on board as she had worked with leading companies of the world. She is a leading Security Evangelist with rich, versatile experience in Data Privacy, Information Security, and Risk Management. She is a regular speaker and panelist in professional and public forums of different domains.
Read on the excerpts from the interview with Dr. Puneet Kaur Kohli on her career success.
Career in Tech
Dr. Kaur is a qualified Research Doctorate in Excellence Management. She holds an MBA in Information Systems from FMS Delhi & B. Tech from Delhi College of Engineering. Her first stint as a CIO has started with United Technologies Corporation and also recognized as the 'CIO of the Year' in 2006!
After completing her technical education, she worked in various leadership roles with Motoricity, Motorola, Reliance, Duncans, Carrier Aircon, Bharti Airtel Limited, UK Land Investments, and Soma Networks across the globe in countries viz. Dubai, US, UK, Canada & across APAC.
Dr. Puneet's experience ranges from industries such as Telecom, Manufacturing Power, and Financial Services.
Work-Life Balance as a Woman in Tech
As per Puneet, marriage brings a set of challenges for ambitious and career-oriented women. However, she didn't have to go through such career hardships as her family is always supportive of her career dreams.
When it comes to work-life balance, she used to take small breaks and also does CSR activities that involve helping 1 lakh women and children to become literate, for which she is being recognized by the prestigious Forbes Magazine under the 'Fortune 50' category in the Asia-Pacific region. She likes to travel in India and abroad and enjoys cooking to get detoxicated.
Some ideologies she follows are: • Be coachable • Do good and forget it • Be a good listener.
Less Women Participation in Tech
To increase women participation in technology, she recommends women to be the catalyst for change. Women need to believe in themselves and confidently take their career forward, which is the need of the hour. It is important to not have a herd mentality. She also advocates that bringing women in the top positions of companies will help the companies to prosper even in difficult times.
Dr. Puneet also strongly believes that the tasks assigned should be finished within the given deadline. She considers that practicing discipline is the key to both personal and professional success. Discipline enables you to deliver beyond the expectations of the company as an employee and leader. She ended with a note saying the age-old adage "Practice what you preach."
Advice to Aspiring Women in Tech
Dr. Puneet Kaur is a staunch believer in being the change and she urges the young professionals to follow this personal philosophy. She advises aspiring women leaders to bring in a change by believing in themselves and not to expect somebody else to do it for them.  According to her, young women professionals in India should lead the change. In the corporate world, most of the times, women are not considered for prestigious positions. Hence, it is critical to be at the forefront and stay competitive to get notices by others.
Women Support Initiatives
She has worked on various CSR activities that involve helping 1 lakh women and children to become literate, for which she is being recognized by the prestigious Forbes Magazine under the 'Fortune 50' category in the Asia-Pacific region.
Honors
Honored with several awards and recognitions such as Jewel of Punjab Award, Business Transformation Leaders Award, NBFC Tech 100 Award for Disruptive Technologies in 2019 and 2020, TOP 100 CISO AWARD of 2011, 2012, 2013 2014, 2015, Infosec Maestros Award, and so on.
Dr. Puneet Kaur Kohli has been selected for 'Top 10 Women Tech Leaders India Awards 2021' by REVA Academy for Corporate Excellence, REVA University in association with Terralogic Inc. and co-sponsored by CloudxLab.  Dr. Puneet has been selected for this honor because of her CSR initiatives and for being a security evangelist.