Brings Digital Transformations with Technical Acumen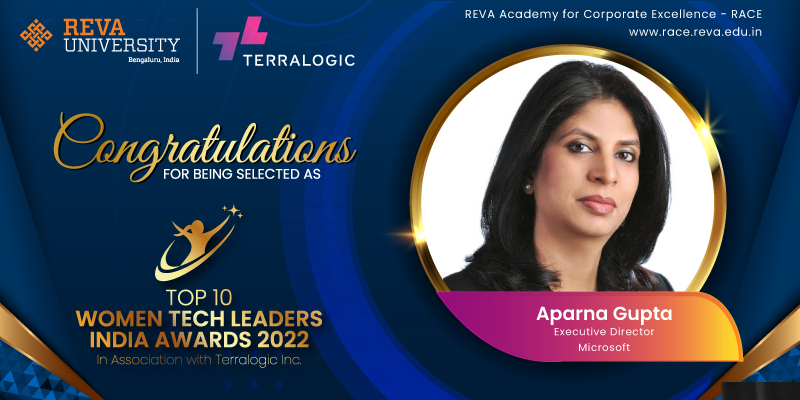 Aparna Gupta
Executive Director, Microsoft
 Aparna Gupta is Executive Director, Customer Success for Microsoft India. She and her team helps customers reach their desired outcomes across the end-end cloud journey and realize business value from their investments in Microsoft cloud platform.
Leadership Roles
 As a leader, she has gone through three key phases and accomplishments in her career:
Started her career at an international biotechnology organization to develop a peptide-based vaccine for malaria leading to few publications and citations.

15+ years in Engineering operations in India for a silicon valley headquartered startup that provides Sales and Market intelligence to customers, several Fortune 500 companies included playing diverse roles across Engineering, Analytics, Product Management and General Manager.

Customer Success leader at Microsoft responsible for Microsoft's India based Strategic Customers' success on the Microsoft Cloud Platform.  She leads a strong technical team that guides customer applications into production in the cloud ensuring great architecture, design, resiliency, performance and scale. This team drives these learnings from our most important customer projects into the Microsoft cloud engineering process to ensure the Microsoft cloud is the most secure, reliable and high performing cloud in the world
Aparna has a strong technical acumen and her constant learning spirit enables her to solve hard problems while driving digital transformations.  She believes in driving strong collaboration to superior better outcomes.  Last but not the least, she is instrumental in building, nurturing, and growing a solid team driven by strong sense of purpose.
Recognitions
 Aparna has a few research publications in her name, https://pennstate.pure.elsevier.com/en/publications/assignment-of-disulfide-bonds-in-the-x-protein-hbx-of-hepatitis-b
Patent US US8463789 B1;  the method identifies a news event for a particular entity (company, organization, person, etc) based on anomalous web volume.
Social Impact
 Aparna has been engaged with different associations and non-profits with focus on women in technology through past several years.  This includes Anita Borg Institute & Grace Hopper conference playing variety of roles including being a part of the India Board for few years, BeyondDiversity, Ledby, Red dot foundation and NASSCOM.  She was the leader and now a co-sponsor of the Women Employee Resource Group for Microsoft India.
She also is passionate about innovation and entrepreneurship and volunteers in the start-up ecosystem in various forms; she has participated and moderated several startup panels, fireside chats, and round tables (organized by Microsoft as well as different forums like ET, UBSforums, NASSCOM, etc).  She has also been a part of the NASSCOM Region chapter in Gurgaon as co-chair with a focus on making Gurgaon the startup capital. 
Future Plans
Aparna is passionate about women in tech and Entrepreneurship as it can create a great impact on the community. In the future, she wants to identify opportunities to partner and scale programs with other leaders. For example, Microsoft's joint partnership with Data Security Council of India (DSCI) on Cyber-shikshaa.