Data Analytics and AI Trends: 2022 and Beyond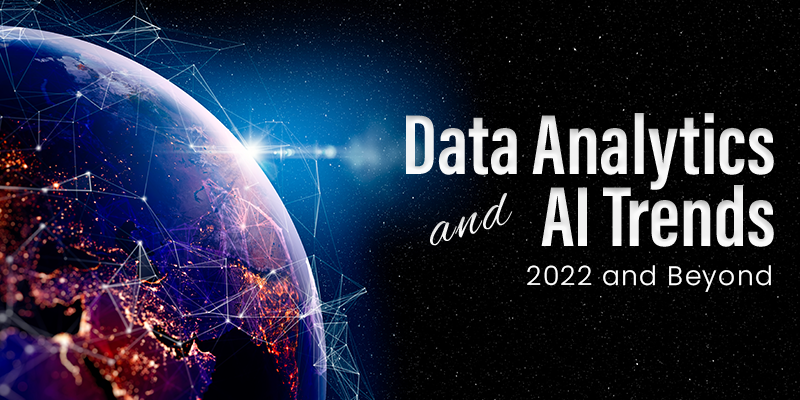 The emerging technologies that have experienced a constant and disruptive innovation in the past decade are data analytics and artificial intelligence. Data analytics and artificial intelligence are becoming an intrinsic part of our daily life. Most of us are unaware of the influence created by these emerging technologies. However, these technologies are offering incredible promises for technology stakeholders and enterprises.
Enterprises also must embrace analytics and AI solutions to automate decisions and processes, which accelerate ROI and efficiency of businesses in 2022 and beyond. According to Gartner's prediction, 75% of the organizations will be establishing a centralized data and analytics center of excellence to support federated D & A initiatives and prevent enterprise failure, and 10% of digital commerce orders will be predicted and initiated by AI.
In this blog, RACE is discussing all about the data analytics and AI trends of 2022 and beyond:
Low-Code and No-Code AI Platforms
In this era of technological advancements, creating complex applications without employing developers, spending money, or a waiting period is possible. This became possible with the introduction of no-code and low-code AI platforms. No-code and low-code AI platforms support non-AI experts in building AI applications from predefined elements.
According to Gartner, by 2025, 70% of the new applications developed by organizations will use low-code/no-code technologies.
An approach in which codes are not used to deploy AI/ML model is no-code AI, and an approach in which little coding is used to deliver apps is low-code AI. The major difference between no-code and low-code development is that low-code requires minimal programming input, whereas no-code doesn't need programming at all.
Divergence of Data Science/Machine Learning Market
Gartner has categorized Data Science and Machine Learning market into two, 'Engineering' or expert and 'Multi-persona', which are equally significant markets. DSML platforms are code-based, and it aims to develop ML-powered data science systems. Multi-persona platforms emphasize to create value, collaboration, and ease of use between different non-technical and technical personas.
Cloud-Based Data and AI Solutions
Cloud-based solutions are infiltrating enterprises and these solutions are going to stay here. Today, data is produced in huge chunks and storing huge chunks of data is a major issue. Gathering, cleaning, classifying, formatting, and analyzing enormous amount data is a time-consuming task. Cloud-based solutions help enterprises to reduce cost, achieve scalability, mitigate risk of database capabilities.
Cloud computing and storage have created huge developments in last few years, mainly through cloud service providers like Google Cloud Storage, Microsoft Azure, AWS, Salesforce, Adobe Creative Cloud, etc. These companies are heavily investing on developing cloud infrastructure, applications, and tools that provide flexible and affordable services.
Adoption of XOps
XOps or Extensive Operational Performance Services is an umbrella term used to define the combination of various IT disciplines such as MLOps, AIOps, GitOps, DevOps, DevSecOps, and BizDevOps. In short, 'X' in XOps is referred as the infrastructure, data, machine learning, and business intelligence models, and 'Ops' is referred to automation through code.
Based on Gartner's report 'Top 10 Data and Analytics Trends for 2021', XOps is listed as one of the trends. XOps is an emerging automation strategy that defines business value AI/ML and data workflows. In the future, businesses are likely to adopt XOps for automation and minimizing repetitive actions. XOps will enhance the efficiency and accelerate the development processes by incorporating various analytical practices and operations such as MLOps, AIOps, GitOps, DevOps, DevSecOps, and BizDevOps.
Increased Dependency on Scalable AI and Small Data
According to the prediction of Gartner, 70% of the organizations will start focusing more on small and wide data than big data by 2025. The leading data science trends in 2022 and beyond will be small data along with scalable AI technologies that enable the enterprises to analyze customer behavior. Unlike big data, small data is in limited volume yet provides powerful insights.
The scalability and diversity of data is growing at a faster pace, which made the enterprises to search new methods for analyzing and managing data. Big data uses huge ML algorithms, and the machine learning models developed out of big data will be more complex. Apart from that, cloud systems with unlimited bandwidth are essential to work on big data. On the other hand, small data can trigger cognitive analysis of the data at a faster pace using limited bandwidth, energy, and time.
Scalable AI enables the organizations to embrace sudden change. Scalable AI can be defined as the ability of infrastructure, models, data, and algorithms to execute a task at a required complexity, size, and speed.
AutoML
Automated machine learning (AutoML) is the technique that employs machine learning models to automate the tasks in real-life scenarios. AutoML offers processes and methods that help non-ML experts to build machine learning modes of high productivity and efficiency.
According to Prescient & Strategic Intelligence market report, the global AutoML market value is expected to increase 45.6% CAGR during the period of 2020-2030 from $346.2 million in 2020.
AutoML saves resources and time, simplifies machine learning adoption, eliminates human faults, enhances prediction accuracy, and allows data scientists to focus on specialized tasks.
Wrapping Up
Data Analytics and Artificial Intelligence in the limelight with innovations and extensive developments. The demand of data analytics and artificial intelligence will continue, and new trends will evolve in the years to come. Hence, it is necessary to stay updated on the evolving trends in these domains.