Driving Empowerment through Technology and Inclusion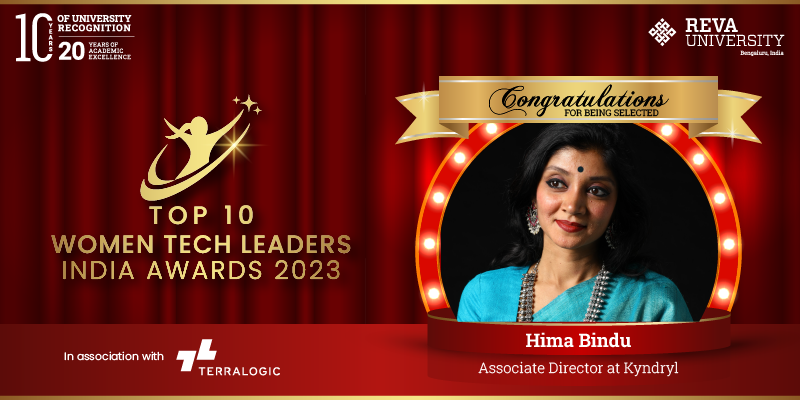 Hima Bindu
Associate Director – Global Engineering & Adoption Programs at Kyndryl

Hima is a Global Engineering Adoption and Communication Leader at Kyndryl Consulting with over 18 years of experience in IBM & Kyndryl. She is an advocate for women's empowerment, diversity and Inclusion, and has won numerous awards for her service in IT. Hima is an active volunteer for STEM programs and is a Co-Facilitator for Business Acumen & Advanced Communication for Technical Leaders. She is a core team member of Kyndryl Enterprise Women's Inclusion Network and a council member for WICCI (Women's Indian Chamber of Commerce & Industry).
Hima's Advocacy for Self-Sufficiency
Hima has been keenly involved in various executive-level initiatives for women in technology initiatives, including speaking at internal and external summits as a Women in Tech speaker, publishing articles on women's careers in technology, navigating the corporate world, and raising awareness on single parenting and mindfulness. She has focused her efforts on the development of single mothers and now mentors and guides them in a variety of areas to help them become self-sufficient. Her active initiatives with IBM and Kyndryl for STEM Careers for girls. She is a regular speaker at various tech forums and media channels.
Building Digital Literacy for Underprivileged
Hima has started a platform called Manahprasada.org to help underprivileged groups with digital literacy and to enable women to be independent and connect with others who want to help those in need. The platform focuses on social initiatives and services to help underprivileged people, including free counselling, meal distribution, mask distribution, community feeding stray dogs, and support for artists and artisans. She volunteers with Manahprasada on free one-to-one counselling sessions to help cope with mental distress and depression.
They launched the "Let's help all breath" initiative during the pandemic to support people who were economically affected. Her initiative for the digital literacy program helped many homemakers to become independent entrepreneurs.
During the coronavirus pandemic, she and her team have helped and distributed around 1800+ free meals and masks across BBMP pourakramikas, frontline workers, construction workers, humanitarian homes, orphanages, transgender communities, Rohingya refugees, quarantine homes and villages. She has initiated programs in collaboration with dance and fitness groups to raise awareness about overall well-being. A community feeding program for 600+ stray dogs during lockdown across Bangalore for one month is another noble initiative. Her joint effort via an art campaign distributed grocery kits for transgender members across many cities in India.
Hima led a tech innovation summit in Bangalore with experts and fashion influencers to brainstorm how technology can aid weavers in remote villages. Her efforts for the weaver's livelihood resulted in availing pension schemes for weavers at Karagoan village.
Awards & Achievements
Hima is a recipient of many prestigious awards for her work in IT and Women Empowerment Initiatives. She was featured in leading newspapers and online webcasts for her contribution to women empowerment initiatives & STEM for girls' initiatives. She is a winner of Corporate Diva – Bangalore Chapter for Women in Leadership. She has been a recipient of the 'India Inspirational Women Award', 'FISA Super Woman Awards', and 'Woman of Excellence Award' and more.
She has been running various initiatives for self-sufficiency among single working women with evolving technologies like cloud and artificial intelligence through awareness programs, building enabling ecosystems, publishing, and outreach programs.