Impactful Leader With Strong Values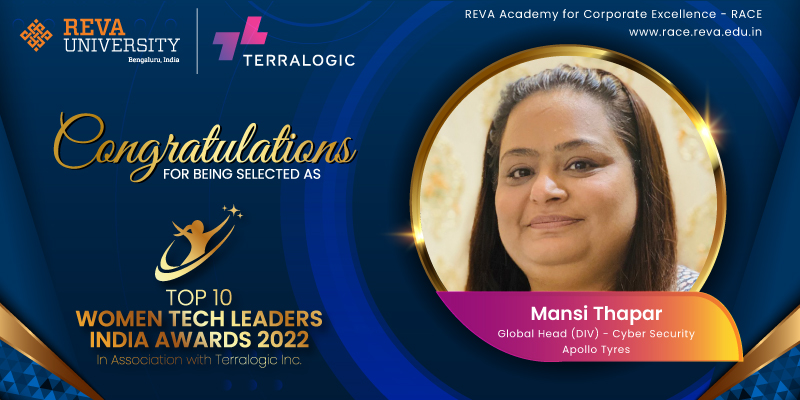 Mansi Thapar
Global Head- Cybersecurity, Apollo Tyres
Mansi Thapar, Global Head- Cybersecurity, Apollo Tyres is a strategic planner and thinker with 21 years of experience in all verticals of IT, be it SDLC, information security, program management, operations, business processes, business excellence, or analytics. Her understanding of all verticals in IT helped her to head PMO in many organizations that provided her an edge to implement change.
Leadership Skills
Mansi Thapar believes that every human being is different, and she follows certain rules to be an impactful leader. According to her, the first and foremost quality for a leader is to have empathy towards the team and colleagues as she believes it needs a long way to create fruitful leadership. The second quality of a leader is to have trust and openness in people, which is the key ingredient for a perfect team.  The third quality of a leader should they have to be flexible but at the same time should be firm in their decisions. Last but not the least, set interesting goals for yourself and the team and lead by example.
She has earned prestigious certifications like PMP & Six Sigma Black Belt, ITIL, ISO 27001 Implementer, and PCI DSS compliance. The above combination provides her an edge to better understand business processes, people, and technology, allowing her to plan, monitor, and implement information programs across the organization. Legacy software transitions, ERP implementations, IT infrastructure roadmap creation and execution, business continuity planning, incident and risk management, deployment of cyber and information security framework, user awareness training, GDPR, application security, etc., are some of the key assignments handled.
She commented, "To grow as a professional, one needs a combination of both functional and technical skills. I am always eager to learn new things, create things and build relationships that paved the way for my success. My functional skills are Stakeholder Management, Team Management, Crisis Management, Program Management, and Change Management helped me to manage large projects where none of the teams were reporting to me but with help of the top leadership, I was able to deliver projects and saved millions for my employers."
She is also on the advisory board for EC-Council's CASE certification program. Her functional skills include Stakeholder Management, Team Management, Crisis Management, Program Management, and Change Management. Several of her articles have been published in leading magazines.
Awards and Recognitions
She has bagged several awards and recognitions in the information technology and security space.
Social Responsibilities
Mansi firmly believes in giving back to the community, which encourages her to participate in various webinars, seminars, panel discussions, and forums that support the upliftment of women and work towards bringing more women into the IT and cybersecurity domains. She is also mentoring a start-up venture- www.cyberpotter.com run by a 14-year-old girl for educating students on cybersecurity. She is mentoring 3 girls who are at the early stages of their careers to groom them into amazing professionals.
Future Perspectives
Mansi is determined to take the start-up www.cyberpotter.com to all schools, where children can be educated and protected against cybercrime, and wanted to take part in more forums and schools to awareness among women. As a professional, her goal is to always keep on her learning spirit and extend her mentorship to needy women to make them the future of our country.
Mansi Thapar has been selected as the 'Top 10 Women Tech Leaders India Awards 2022' organized by RACE, REVA University in association with Terralogic Inc., for her contributions to implement changes as a leader and approach towards the upliftment of the community.