Leads the Way to Success with Passion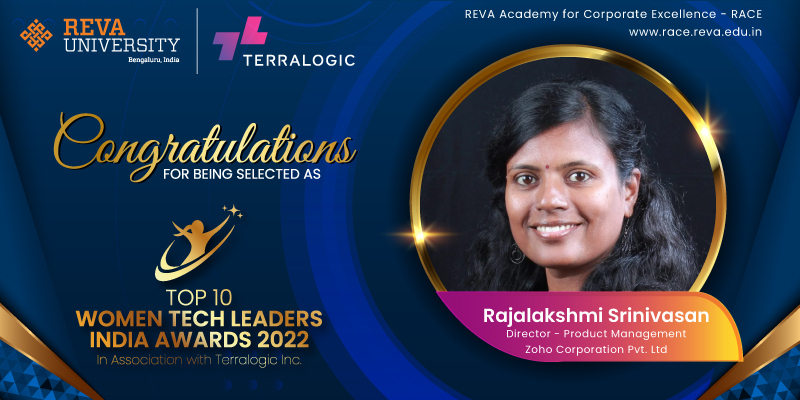 Rajalakshmi Srinivasan
Director- Product Management, Zoho Corporation Pvt. Ltd.
Rajalakshmi Srinivasan, Director of Product Management, Zoho Corporation Pvt. Ltd currently leads the application performance monitoring section in Site24x7, a cloud-based all-in-one monitoring product of Zoho Corporation.
She started her career as a software developer and her urge to keep herself updated with current/latest technologies has helped her to grow in her career path to a Director of Product Management.
With a career spanning around 2 decades, she has gained broad experience in the tech space ranging from database scaling, network monitoring to application performance tracking and end-user experience management.
Read the blog to know more about her career journey, achievements, and contributions to the tech space and society.
Leadership Assets
Rajalakshmi's greatest asset is the profound wisdom gathered through her career on how to innovate and improvise on an idea, how to rally a team around it, and how to execute it to perfection consistently ahead of the competition.
She is a core technical person who believes in continuous learning to sharpen her skills and knowledge, which she believes to be the greatest asset of an individual. She is a strong advocate of actions and outcomes rather than discussing the work. She is inquisitive and passionate about learning new technologies and applying them rightly in her work.
Rajalakshmi is also a public speaker and offers guidance in the technology, women empowerment, youth motivation, parenting, and career. She has delivered more than 100 talks in more than 12 countries in the past 2 years.
Awards and Recognitions
She has received the Indian Achievers' Award – Women of Excellence issued by the Indian Achievers Forum in April 2021 and Tamil Nadu's Women Leaders Award issued by CMO Asia in December 2020.
Social Initiatives
She has participated in marathons for road safety, raising a girl child, turtle walk, beach clean-up drives, hair donation, and so on. She takes purposeful actions aimed at promoting environmental justice, addressing social problems, helping the deprived people, and contributing to the sustainable development of the community.
Future Aspirations
Rajalakshmi aspires to create a positive impact on people around her through her work and nurturing relationships.
Rajalakshmi Srinivasan has been selected as the 'Top 10 Women Tech Leaders India Awards 2022' organized by RACE, REVA University in association with Terralogic Inc., for her commendable attributes that support the organizations and society alike to bring changes.