Driving Strategic Growth with Continuous Learning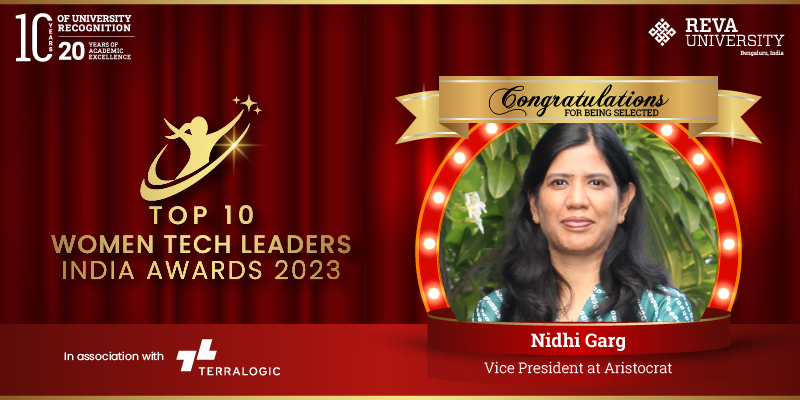 Nidhi Garg
Vice President & Head of Global IT, Aristocrat

Nidhi Garg is a result-oriented technology leader with over 22 years of experience providing leadership to achieve corporate strategies, build a coalition to support business growth, and implement and manage change to drive organisational performance. She has extensive experience working with C-level executives and Leadership Teams to develop IT strategies, roadmaps, program implementation plans, and their supporting budgets.
Nidhi is a lifelong learner and holds several certifications that demonstrate her commitment to professional development. She has been a Certified Project Management Professional (PMP) from PMI, USA, since 2007, a Certified Agile Leader (CAL-I) from Scrum Alliance, a Certified ITIL 2011 Foundation professional, a Certified Scrum Master (CSM) from Scrum Alliance, and a Certified Scrum Product Owner (CSPO) from Scrum Alliance. She has completed the Complete Machine Learning and Data Science Bootcamp from Udemy in 2022, the Mastering Finance Fundamentals course from The Wharton School (Online) in 2022, and the Design-Led Strategy course offered by The University of Sydney through Coursera in May 2021. She is currently pursuing a Management development program from The Wharton, University of Pennsylvania, USA.
Leadership skills
As Vice President & Head of Global IT, Aristocrat at a leading gaming company, Nidhi is responsible for leading the Global IT teams comprising Enterprise Applications, Infrastructure Engineering, Information Security, Service Delivery, and Global Data, overseeing IT delivery and operations for a leading gaming company with around 5.5 billion revenues, reporting to Global Chief Information Officer (CIO) and responsible for providing strategic direction across business growth, operations management, technology delivery, budgeting & financial control, people management.
Nidhi's notable achievements include winning the CIO Axis 2023 – Most Promising Category, the 'Innovative 100' award at CIO100 2022 by Foundry Group, the 'Digital Genius award' at CIO Crown 2022 by Core Media Group, and the NEXT100 award by 9.9 Group. She has also been featured in CIO News.
Nidhi is an executive sponsor of EIG 'Shakti' in her organisation, with a focus on creating a diverse, equitable, and inclusive environment for women. She actively participates and contributes to global DEI events and symposiums in the organisation and has successfully created a platform and run a virtual Lean In group for women to come together to share, learn, and promote sisterhood. She has also engaged in the Leading with Pride program to mentor a transgender person over a period.
Future plans
Looking to the future, Nidhi's plans for women's empowerment include launching an in-person learning group as the next phase of the program and working on initiatives to improve financial and health awareness among women and promote actions in these spaces. She remains committed to continuing her long-term programs and initiatives aimed at promoting diversity, equity, and inclusion in the workplace.