Cybersecurity Advocate and Bodybuilder Extraordinaire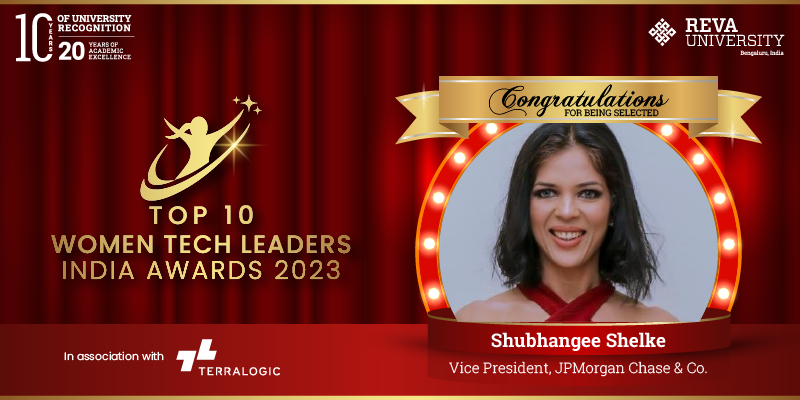 Shubhangee Shelke
Vice President at JPMorgan Chase & Co.

A multifaceted banking professional
Shubhangee Shelke is a renowned banking and cybersecurity professional working with global banks and clients. She holds several professional degrees and certifications, such as an MBA, Diploma in Cyber Law, CISA, CCA, PMP, ITIL v3, CEH, CSM, AWS CCP, CCIO and CPEW. Shubhangee is an ISAC ambassador for women in cybersecurity and is dedicated to raising awareness and encouraging women to pursue cybersecurity roles. Interestingly, she is also a successful professional bodybuilder who qualified for the ICN International bodybuilding competition representing team India with several titles in regional and national competitions!
Shubhangee has led the process of audit issue validation management across the line of businesses to identify and close the issue remediation plan within timelines and budget resulting in saving huge many hours and thus cost savings. She has crafted and implemented a successful campus internship program, where fresh postgraduate students from technical programs from premier institutes were hired and trained with the end goal of making them industry ready.
A crusader of Cybercrime Awareness and Professional Ethics
She is an ISAC ambassador for outreach and awareness in motivating women to join the cybersecurity field. She is also a qualified Cybercrime Intervention Officer and has assisted cybercrime victims in getting the necessary help and support. In addition, she evangelises professional ethics at the workplace and spreads awareness on prevention of financial fraud, hate crimes, workplace harassment and creating an ethical workforce. She conducts seminars, webinars, and awareness sessions, creates awareness through n social media, and helps mentor people for cyber and tech roles, including job opportunities. As an active speaker and influencer for cyber security & she spearheads various activities to promote cyber awareness through mentoring sessions to women and fresh graduates to help them achieve their best.
About success
Endeavour to give your best consistently in whatever you pursue on professional and personal front, she is greatly influenced by the Bhagwat Geeta: as it quotes, "you are only entitled to the action, never to its fruits". She believes: continuous learning and upgrading oneself is very important to keep pace with rapid changes technology. On job learning we do during our day job, off job, one can learn via self-study attending external training and conferences and obtain professional credentials. Also, as part of giving back to community, you can conduct knowledge sharing sessions, webinars etc.
Fitness is for everyone
She believes that fitness is for everyone irrespective of gender, age, genetic lineage, or ethnicity. Taking care of one's health is the best investment for anyone. In order to take care of others, one should be fit and fine by oneself. For professionals, on the work life balance front, the more you sweat in peace, the less you bleed in war.
Her sayings " Let's do math :)1 hour of workout out of 24 hours is 4% of your day. Managing that 1 hour for yourself, is the best form of self-love and happiness!
For most of us, balancing a full time successful corporate career with fitness regime is a definitely challenge. highly demanding passion of bodybuilding hasn't been easy. However, focused approach, healthy life style and believing in oneself makes it work through the time, and then when you look at yourself in mirror as your improved version, that sense of achievement adds to motivation!