Leading AI revolution with compassion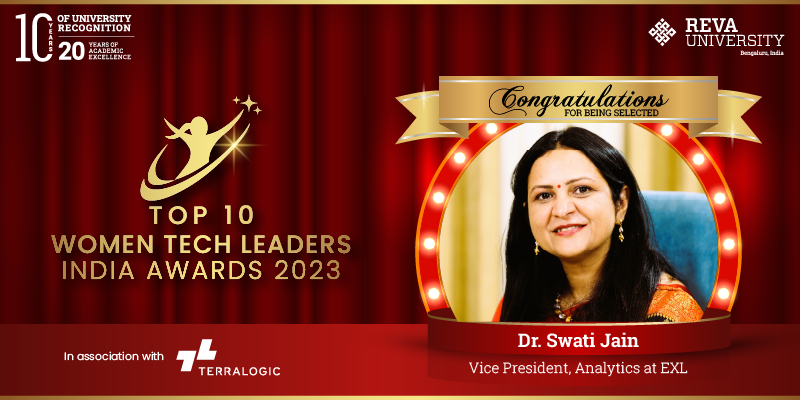 Dr. Swati Jain 
Vice President, Analytics
EXL

Leading AI revolution with compassion
Dr. Swati Jain is a highly accomplished professional with extensive analytics and consulting experience across multiple sectors, including financial services, retail, media, and healthcare. She is currently the Vice President of Decision Analytics at EXL Service, where she provides AI/ML services to several Fortune 500 organisations. Dr. Swati is responsible for leading the India business for EXL Analytics and select global accounts in the financial services and retail domains. In addition, she also leads analytics talent acquisition for the India and APAC region.
Dr. Swati's expertise in data analytics, business intelligence, and consulting has been honed over several years at top firms such as Cognizant, Pipal Research (CRISIL), and EY. She has been instrumental in the development of innovative AI solutions, the propagation of newer business models, and the democratisation of AI in client organisations. Dr. Swati has been regularly featured in leading technology publications on top data science / ML trends, AI adoption, women in technology etc. She has been a speaker at various forums including TieCon, NASSCOM, PHDCCI, Economic Times, Dataquest, IIMs and AI / Data Science associations. Dr. Swati is a member of the leader's council of select well-known AI forums and has been closely associated with NASSCOM's data science and AI CoE. She played an active role in the development and rollout of NASSCOM's AI Maturity Assessment Framework and has participated in NASSCOM initiatives on AIaaS and MLOps.
Dr. Swati holds a Ph.D. in Economics from the Indian Institute of Technology (IIT), Delhi, and a Master's in Business Economics from Delhi University.
Awards & Recognitions
Dr. Swati has been recognised as one of the "Top 11 Women AI leaders in India" and awarded the "Women in AI Leadership Award" by a leading Indian publication in Analytics. In 2021, she was featured in "21 women in 21" by INDIAai, the national AI portal of India, and was named among the 50 most influential AI leaders in India by Analytics India Magazine. Dr. Swati has been associated with 3AI, one of India's largest platforms for Analytics and AI professionals, since its inception and has received multiple awards for her contributions, including the Women in Analytics, AI Makers 100, Exemplary thought leader, and 3AI President's Award.
Tech's Global Sustainability: Women Empowered
Dr. Swati has made significant contributions to women's empowerment in the technology industry. She is passionate about role of women in sustainable global development and has shared her journey via several published interviews and sessions organised for technology women at national and international level. Dr. Swati is part of EXL's Diversity and Inclusion Council and has been active in several women initiatives in the organisation, including women fire side chats and book review sessions aimed at inspiring and empowering. Over the years, Dr. Swati has groomed several women in her team, some of whom have received industry recognition for their contributions in analytics. Dr. Swati has been part of multiple mentorship forums, mentoring women in AI/Analytics, career, and leadership.
Spiritual Intelligence
Dr. Swati is also passionate about contributing to society in other areas beyond AI. She has participated in EXL's CSR initiatives, including "Skills to Win", which focuses on holistic career development of youth. She has also participated in other initiatives related to education and fun for primary schools and has volunteered as an online yoga and meditation instructor during Covid times. Dr. Swati has been a mentor and conducted numerous webinars for young professionals in areas of technology, analytics, and artificial intelligence, as well as women, careers, and leadership. She has been a jury member for various contests organised by NASSCOM and AI associations.
Furthermore, Dr. Swati has been running a spiritual forum for over five years, which has conducted more than 100 sessions on topics such as mindfulness, karma and self-development. She believes in contributing to society through artificial intelligence and spiritual intelligence, and she strives to do so on a regular basis.