Building an Intellectual, Innovative and Incredible India with Robotex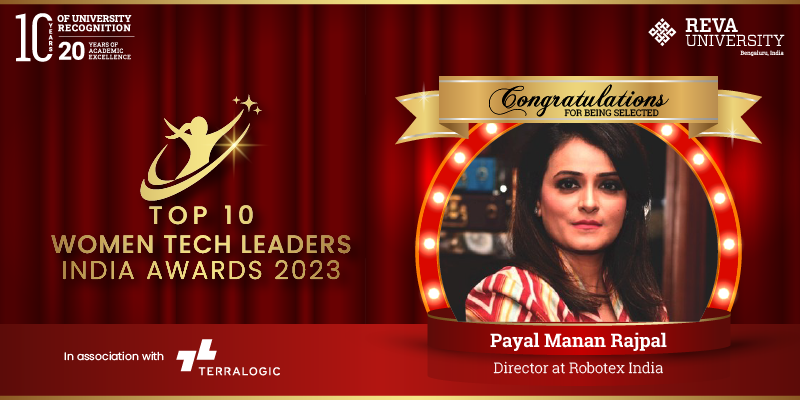 Payal Manan Rajpal
Director at Robotex India

Payal Rajpal is a distinguished professional who has made significant contributions to education, innovation, and entrepreneurship. After relocating to India from the United Kingdom in 2010, she was determined to bridge the gap between industry and academia and set up innovation centres to improve employability success rates.
Her vision is to provide advanced digital skills to children from every village in India to build an Intellectual, Innovative & Incredible India. Her initiative, Robotex International, creates young talent for future careers in employable and entrepreneurial skills, with the goal of educating 2 million government school students with employable skills. Under the Robotex India program, over 40,000 government school students have been coached, and initiatives such as "Girls who build robots" and "Robotex for Rural" have been launched.
Social impact
Payal Rajpal's impact on society extends beyond education. During the COVID-19 pandemic, she founded Hack the Crisis, India, which mobilised the top 50 solutions globally. This initiative concluded two successful COVID-19 solution-finding Hackathons in April 2020 – "Hack the Crisis – India," the largest in India with 15,000 participants, and "Global Hack," the first digital initiative with the Ministry of Electronics and IT India, MyGov India, and Digital India. In association with MEITY Start-up Hub, she also formed the Resilience Accelerator to assist startups affected by the pandemic.
Payal Rajpal is a staunch advocate of women's empowerment. As the vertical head for Ficci Flo Pune, she has empowered and impacted the lives of over 10,000 women through various skilling projects and initiatives by raising INR 10 million since 2015. She is an advisory board member of 'Lets Do It, India', and 'Ambitious Africa'.
Her achievements in this area have earned her various accolades, such as Women in Business Rising Star, Top Women in Technology, and Top 100 Global Influencers.
Looking ahead, Payal Rajpal plans to continue supporting employability and entrepreneurship in early education, mentor and reskill college students, and create incubators and accelerators for women entrepreneurs. Through her dedication and vision, she hopes to make a lasting impact on society by empowering and educating individuals to become agents of change.