REVA University partners with CloudxLab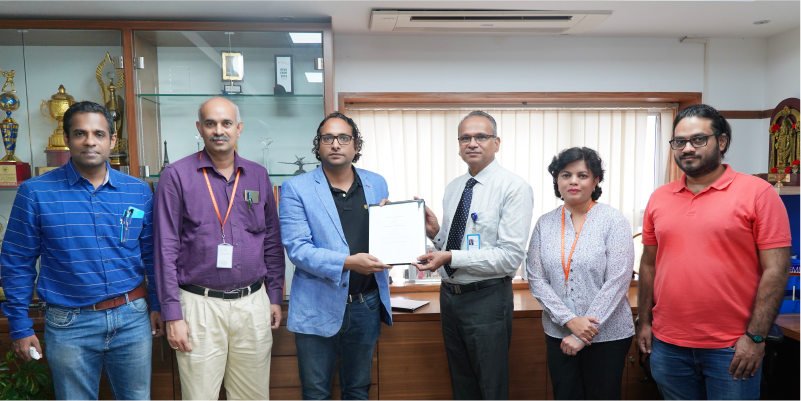 REVA University signs an MoU with CloudxLabs to set up a Center of Excellence in AI and Deep Technologies: In the picture, Dr. K.M Babu, Vice Chancellor, Dr. Dhanamjaya, Pro-Vice Chancellor, Sandeep Giri, Founder, CloudX Labs.
REVA University's REVA Academy for Corporate Excellence (RACE) has inked a memorandum of understanding with CloudxLab for setting up a Center of Excellence in AI and Deep Technologies and providing a platform for promoting research and innovation.
REVA University and CloudxLab's research collaboration intends to work on technologies involving, deep learning, reinforced learning, curiosity-based machines, distributed computing, and launching specialized courses in these advanced technologies.
This collaboration is aimed at launching a series of highly sought-after courses in deep technologies bringing together experts from academia and industry. These courses will be delivered in hybrid mode – a combination of physical classroom, online instructor-led, self-paced, and project-based modes.
Dr. P. Shyama Raju, honorable Chancellor, REVA University  said, "This is one-of-a-kind collaboration aimed to build a launch pad for those who are planning to step into the world of Artificial Intelligence, Deep Learning and other advanced technologies. It affirms REVA University's commitment to make high-end technical education available to everyone in the world."
"With Artificial Intelligence, machine learning, and distributed computing influencing every aspect of our lives, we are optimistic that this collaboration will help professionals in shaping their career", says Sandeep Giri, CEO, and Founder at CloudxLab.
About REVA University
 REVA University is one of the top-ranked private Universities at Bangalore, India, offering a wide range of UG, PG and PhD programs. REVA Academy for Corporate Excellence (RACE) is one of the initiatives of REVA University focused on corporate training programs, research and consulting in emerging technologies to develop visionary enterprise leaders through progressive and integrated learning capabilities. RACE offers best-in-class, specialized, techno-functional, and interdisciplinary programs that are designed to suit the needs of working professionals.
About Cloudxlab.com
CloudxLab, is an ed-tech venture headquartered in the US, provides an online learning platform that upskills engineers in deep tech and makes them employable & future-ready.
For more details, please connect with [email protected]