Cloud Architecture and Security Program: A Guide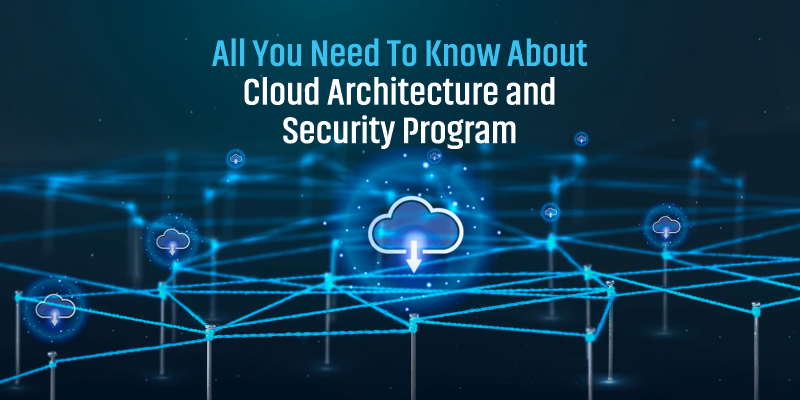 Cloud Security Architects are familiar with all the technology and hardware used for systems and workloads to safeguard data on cloud platforms.
The cloud, whether private, public, or hybrid, offers the promise of agility, efficiency, and cost-effectiveness. These are revolutionary characteristics for any company, allowing it to respond to market shifts through rapid service delivery and the ability to make data-informed decisions.
On the other hand, businesses may be unable to use cloud resources without putting themselves and their data at risk. Cloud security architecture enables enterprises to take advantage of everything the cloud has to offer, including software as a service (SaaS), platform as a service (PaaS), and infrastructure as a service (IaaS) while reducing exposure and susceptibility. Without cloud security design, the risks of cloud computing may outweigh any potential benefits.
Now that you know what Cloud Security and Architecture are, read on as we give you details on the future scope in this field, course details, program structure, and much more!
Cloud Architecture and Security Program Highlights
With a PG Diploma/M.Sc in Cloud Architecture and Security degree given by RACE REVA University, Bengaluru, you may make an undeniable difference in the technological world. Our cloud architecture courses are designed to complete a learning approach to understanding the Cloud Architecture and Security domains, enabling learners to take on challenging jobs in the Cloud Architecture and Security domains. UGC has approved this 12-month/24-month curriculum.
Our trainers are industry thought leaders with over a decade of expertise, with a focus on Cloud Architecture and Security solutions. The trainers offer hands-on instruction with access to real-time projects.
Students can use RACE, REVA to acquire access to –
Learning Management System (LMS) provides pre-class readings, in-class resources, datasets, recorded recordings of contact sessions, and various other study resources 24 hours a day, seven days a week.
Module exams, which include actual industry-grade projects, humanoids, and simulations, allow participants to gain a thorough comprehension of the subject matter.
Lateral Placement Support provides career counseling, resume suggestions, mock interviews, and mentor and alumni contacts.
Cloud Architecture and Security Program Eligibility Criteria in India
The following are the eligibility requirements for RACE REVA's PG Diploma/M.Sc in Cloud Architecture and Security program:
PG Diploma:
Any three/four-year UG degree in Mathematics or Statistics at the +2 level is required.
Post Graduate:
A Bachelor's degree in any area and at least two years of industrial experience is required.
Cloud Architecture and Security Program Course Structure
The program's trimesters are designed to assist professionals in their career move by providing exposure to Cloud solutions and applications ranging from the fundamentals to the advanced level. The program's curriculum, which includes hands-on learning experiences, enables learners to effectively implement AI models in enterprises. The program is structured into six semesters, with the following subjects:
Cloud Architecture and Security Course Fees
The program fee for RACE REVA's two years M.Sc in Cloud Architecture and Security is INR 4.5 lakhs. Merit discounts are offered for those who earned 60% or higher on their pre-qualifying exam. There are also an early bird, group, and referral discounts available.
NBFCs and banks offer financial help and educational loans with interest rates ranging from 7.9 to 11%. These financial organizations will help you to repay your college loan in manageable installments while also providing income tax benefits.
Future Scope of Cloud Architecture and Security in India
As a result of the pandemic, economies all over the world are rapidly digitizing and adopting cutting-edge technologies. Cloud use has skyrocketed since it is a necessary component of a functional remote or hybrid work architecture. According to Gartner, global public cloud revenue will increase by 23% in 2021 to a total of 332.2 billion dollars.
However, this massive increase in demand has resulted in a huge talent gap in the business. The demand for cloud specialists is increasing. With over 3 lakh active job searchers in November 2021, cloud-related roles accounted for roughly 10% of all jobs. The Indian cloud market is predicted to expand by 26% by the end of 2022.
Career Opportunities After Cloud Architecture and Security Program
Some of the top cloud jobs you can acquire after finishing your course are listed below –
Cloud Engineer - Cloud engineers are information technology professionals who design, deploy, and manage cloud-based solutions for enterprises. Cloud engineers are responsible for all technical aspects of the cloud, from creating cloud software and systems to implementing and maintaining them. In India, a cloud engineer makes an average of 5.4 LPA.
Cloud Automation Engineer – A cloud automation engineer is a senior software developer or engineer who specializes in cloud automation, orchestration, and integration. The average yearly income for a cloud automation engineer in India is 10.9 lakhs, with salaries ranging from 4.0 lakhs to 31.2 lakhs.
Cloud Architect – A cloud automation engineer is a senior software developer or engineer who specializes in cloud automation, orchestration, and integration. The average yearly income for a cloud architect in India is 21.0 lakhs, with salaries ranging from 9.0 lakhs to 39.5 lakhs.
Cloud Security  Engineer- A cloud security engineer is responsible for establishing and maintaining safe cloud infrastructure. The average yearly income for a cloud security engineer in India is 8.2 lakhs, with salaries ranging from 3.7 lakhs to 26.0 lakhs.
Cloud Full Stack Developers – A full stack developer is an IT professional who can work on all aspects of the software development lifecycle. The average yearly income for a cloud security engineer in India is 8.2 lakhs, with salaries ranging from 3.7 lakhs to 26.0 lakhs.
Cloud Security Architect – A cloud security architect is responsible for developing and installing security systems for data storage in the cloud. The salary of a cloud security architect is 17 Lakhs.
Cloud Reliability Engineer: If issue solving is your thing, you'll love becoming a cloud reliability engineer. A cloud reliability engineer is responsible for maintaining and increasing the performance of a cloud-based system. The salary range of a cloud reliability engineer is ₹ 4.6 Lakhs to ₹ 27.3 Lakhs with an average annual salary of ₹ 12.5 Lakhs.
Network Security Engineer: A network security engineer defends computer systems against online dangers such as viruses, malware, and hacking attempts. The IT expert should be able to recognize current problems and create defenses against potential dangers. The systems' hardware and software must be tested and configured. The average salary of a network security engineer is 6Lakhs – 8Lakhs.
Cyber Security Analyst – A certified cyber professional with a focus on network and IT infrastructure security is a cybersecurity analyst. The cybersecurity analyst works diligently to foresee and stop these attacks by having a thorough understanding of malware, cyberattacks, and cybercriminals' actions. The average salary of a cyber-security analyst is 6Lakhs – 8Lakhs.
Cyber Security Manager – Managers of cybersecurity keep an eye on the pathways through which data enters and leaves a company's information network. The salary range of cyber security managers is 12 – 24 Lakhs.
Chief Information Security Manager – The chief information security officer, or CISO, is a senior-level executive who is in charge of creating and implementing an information security program, which consists of guidelines and policies intended to safeguard internal and external threats to the enterprise's communications, systems, and assets. The average salary of chief information security managers is 2-4 Crores.
The potential and demand for cloud computing are projected to grow as firms invest more money in modernization programs and digital transformation campaigns. If you are just starting in IT or want to become a cloud specialist, the professions listed above are worth considering.
Cloud Architecture and Security Program Salary in India
According to industry pioneers and niche experts, a cloud architecture salary working professionally in India who has completed their degree or certification in the niche of cloud computing can start earning around 6 lacs per year. Now, as their experience and relevant skills grow, their package or CTC will skyrocket, just like in any other domain. It may indeed take some time; all we have to do is be patient!
With 6-7 years of expertise in the specific specialization, the typical income of a cloud engineer has risen to 12-18 lacs per annum.
Why Choose RACE, REVA for Cloud Architecture and Security Program
Here's why you should choose RACE, REVA to complete your PG Diploma/M.Sc in Cloud Architecture, and Security –
Gain full-stack knowledge of cloud technologies. 
This one-of-a-kind curriculum will teach students how to create end-to-end cloud solutions and multi-modal cloud platforms that are scalable, secure, and cost-effective. Access to a multi-cloud environment, ranging from AWS to Microsoft, where one can experiment and invent to gain hands-on experience.
Designed to develop enterprise leaders with forward-thinking abilities. 
This program is intended to develop enterprise leaders who can empathize with organizational requirements and design solutions that are cost, scalability, and flexibility optimum.
Five or more industry certifications, as well as a globally recognized master's degree program 
A well-balanced program curriculum that includes global cloud certifications from AWS and Microsoft ensures that the learner develops deep technical and functional expertise in designing cloud solutions and applications in all enterprise functions based on business challenges, resulting in a strong resume with hands-on skills.
Deep hands-on industry-grade projects with a focus on research and innovation 
After this two-year master's program, students will have completed 15+ mini-projects, 2+ full-scale projects, and a research paper (s). These initiatives will be mentored by industry thought leaders, making them career-changing.
Lateral placement with career counseling and assistance 
A large network of 50+ industry mentors, 100+ marquee firms as placement partners, and a 1000+ strong alumni network ensures that all of our learners successfully transition into analytics managers during the program. The lateral placement method is unique in that it includes one-on-one career coaching and mentoring sessions, resume-building assistance, excellent training, and mock interviews to position each learner domestically and internationally with an average income rise of 50 to 200%.
To Conclude
If you want to understand the fundamentals as well as advanced theories of cloud computing while also improving your practical abilities, you should enroll with us and study at RACE, REVA. This course will provide you with all of the necessary abilities to help you become one of the world's best cloud computing professionals. Prepare for your dream job with us!
Pursue a PG Diploma in cloud computing and prepare yourself for an exciting future. Study alongside other students and working professionals. Learn the most up-to-date, student-centered, and industry-focused curriculum from expert mentors.
Always be job ready with us! Take advantage of best-in-class project-based learning and hands-on practical experience that goes above and beyond the traditional classroom approach. To know more about the program, fill out our form and visit: https://race.reva.edu.in/msc-in-cloud-architecture-and-security/