Master of Science in Business Analytics: A Guide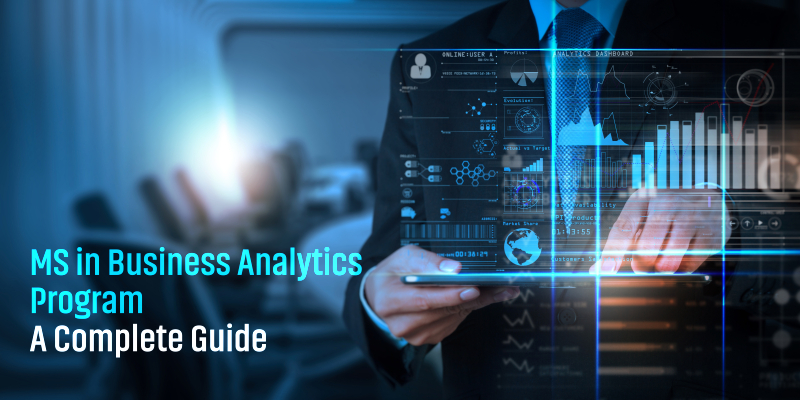 The demand for highly skilled data analysts to evaluate and apply tech-driven information grows more urgent as technology continues to permeate the commercial world. Therefore, to broaden their knowledge and skills, students who are interested in a career in the developing subject of business analytics may want to consider earning a master's degree in business analytics or a related degree.
The study, analysis, and interpretation of data used to comprehend a company's performance are known as business analytics. To extrapolate important data on a particular project or product, a business analyst often uses a variety of statistical methodologies. In this blog, we are going to give you a complete guide on the MS Business Analytics Program: The course duration, eligibility criteria, and other important details about the program. Read on, to explore!
MS in Business Analytics Eligibility Criteria in India
You must have earned a degree (10+2+3) or a diploma (10+2+3) in any discipline from a recognized institution (State Government, AIU, AICTE, DEC, UGC, or accredited overseas universities) and have at least one year of professional experience.
You must also be familiar with basic programming principles, such as variable assignment, loops, functions, and data types, to succeed in this program. You must be proficient in graduate-level mathematical ideas, such as calculus, functions, and matrices (matrix operations and representation) (partial derivatives and differentiation).
MS in Business Analytics Syllabus/Course Structure:
In-depth, practical skills in programming, statistics, machine learning, deep learning, and natural language processing are developed during the trimesters. This foundation will aid in developing ML applications in a variety of industries, including finance, marketing & sales, supply chain, etc. Predictive Modeler and Big Data IBM certifications are also a component of the first-year curriculum. The goal in the second year would be to hone consulting abilities to use enterprise-based data science initiatives, particularly big data projects.
The MS in business analytics course structure will be spread across 6 semesters and the subjects are as follows:
Trimester I
Data Management and Visual Analytics
Management Essentials for Analytics
Applied Statistics for Business
Machine Learning
Fast Track Analytics
Trimester II
Text and Social Media Analytics
Advanced Machine Learning
Azure Data Scientist with Certification
Marketing and Retail Analytics
Financial Analytics
Trimester III
Supply Chain Analytics
AWS Academy Machine Learning Foundations
Big Data Analytics
Capstone Project 1
Trimester IV
Deep Learning for Business
Azure AI Engineer with Certification
Managerial Functions and Analytics
Consulting in Analytics
Enterprise Analytics
Trimester V
Capstone Project II
Trimester VI
Capstone Project – III (Publication)
A real-time capstone project on a current business challenge will be designed, prepared, presented, and published as the program's final project in the second year of business analytics. It is necessary to build an end-to-end analytics project with a respectable financial value before designing, implementing, deploying, and showcasing it. The program office will assist with report writing and coaching. An industry panel of experts' viva is the basis for the evaluation.
Student projects must be presented at an international conference or required to be published in a peer-reviewed journal. Visit https://race.reva.edu.in/pgdm-mba-in-business-analytics/ for more information.
MS in Business Analytics Program Fees
The cost of the business analytics program might range from 14L to 3L. A two-year MS in Business Analytics program at Reva University costs INR 4.5 lakhs in tuition.
For individuals who passed their pre-qualifying exam with a score of 60% or higher, merit discounts are available. Discounts for early birds, groups, and referrals are also available.
With interest rates ranging from 7.9 to 11%, NBFCs and banks offer financial aid and educational loans. You can return your college loan through these financial institutions with convenient instalments and tax advantages.
Get a hassle-free educational loan to help you enroll in our Master's programs and strengthen your abilities so you may enter the profession of your dreams.
MS in Business Analytics Future Scope in India
As companies of all sizes and analytical skill levels enter the big data game, the scope of Ms in business analytics is expanding and improving continuously. The best management promise, the greatest technology, the best people, and a clean culture are all necessary for exploring business analytics. Businesses like IBM, Cognizant, and KPMG use business analytics solutions to generate meaningful and efficient decisions.
To be successful in the field of business analytics, one must develop the necessary skill set. To excel in the field, one needs a strong sense of curiosity, the ability to understand data, a full grasp of tools and processes, the capacity for in-depth analysis, and mathematical abilities. Business analytics has received a lot of attention recently across most industries. With so much data flying around in every area of a business—marketing, sales, finance, social media, etc.—it is crucial to evaluate and comprehend the data to improve business decisions and market growth.
Business analytics (BA) refers to the knowledge, tools, and procedures for conducting ongoing, methodical investigations and analyses of past business performance to generate knowledge and advance industry preparation. Company analytics focuses on creating fresh understandings of how businesses operate using data and statistical techniques.
Jobs Opportunities After MS in Business Analytics
Today's firms demand an easy way to concentrate on boosting their company revenues while reducing operational expenditures due to changing technologies and aspirational small business conditions. Businesses want to strengthen their operational setup by acquiring insight into the near future. Here are some jobs after MS in business analytics that you can pursue –
Client Relationship Management: Customer relationships are based on excellent customer service and a positive customer experience. It is simpler to make necessary improvements and guarantee client retention when a company can effectively monitor and quantify customer service variables and consumer satisfaction. To effectively manage customer relationships, a firm must set priorities for serving important clients, as well as comprehend customer care and purchasing patterns for specific niche markets, customer profiles, products, and services.
Inventory Management: For any company with a supply chain, inventory control is crucial. Even when earnings rise, poor inventory management skills can destroy profitability. Inventory must be managed effectively to maximize profits and increase customer satisfaction. Any inventory management flaw might result in decreased sales and higher expenses. Business intelligence technologies can assist organizations in efficiently monitoring inventory levels and facilitating decisions about inventory optimization.
Market Analysis: Market basket analysis uses performance-based data to identify association rules. This has made it easier to identify users who make large purchases. Investigating these user types has enabled businesses to forecast future consumer behavior.
HR Professionals: Professionals can use data to learn about the educational history of highly qualified applicants, the employee turnover rate, the number of years that employees have been employed, as well as information about age, gender, and other factors. This report may be quite important in the selection process for candidates.
Banking: The banking and finance sectors are being reconstructed by technology. Today's economic organizations must deal with growing customer demands, fiercer rivalry, and the need for strict control and risk management in a market that is undergoing significant change as a result of the Internet and the proliferation of mobile devices and apps. Banks must determine the borrower's capacity to repay the debt before approving a loan. Analyzing historical data and making future predictions about asset value are both made possible by business analytics.
MS in Business Analytics Salary in India
The average salary after MS in Business Analytics in India can be anywhere between INR 3, 00,000- 12, 90,000 per year. In India, a business analyst makes an average income of INR 6, 25,000. Depending on their position and employer, experienced business analysts with 15+ years of industry experience can make up to INR 12,90,000 per year.
Why Choose RACE, REVA for MS in Business Analytics Program
Here are some reasons why you ought to register in this program at Reva University now that you have all the information you need about the job and job profiles of business analysts!
1. Enhance Decision-Making and Full-Stack Analytics Skills
The learner will benefit from this exceptional program's guidance as they develop descriptive, diagnostic, predictive, prescriptive, and cognitive models, deploy them in a live corporate environment and keep an eye on them.
2. Created to Develop Enterprise Leaders
The goal of this program is to support business leaders in creating profitable and long-lasting companies by teaching them how to effectively use the wealth of information available from both internal and external sources. End-to-end performance-driven skill sets are developed in modules like Enterprise Analytics and Consulting in Analytics.
3. Developing technological expertise
To build Machine Learning/Deep Learning-based applications in all enterprise functions based on the business challenges, the learner must acquire deep technical and functional expertise. A well-balanced program curriculum ensures this, and the learner builds a very strong resume with hands-on skills, which are rare in today's job market.
4. Active Education with High-Quality Projects
The students in this two-year MS in Business Analytics program will complete more than 20 mini-projects, more than two large-scale projects, and a research article (s). These projects are career-transforming because they are mentored by top industry thought leaders. These initiatives primarily concentrate on research and innovation, including everything from cutting-edge deep learning product development to corporate use cases.
To Conclude –
Rapid change is occurring in the business sector. The business analyst's duties also include analyzing the current business environment, spotting problems, and suggesting quick fixes. It is impossible to exaggerate the value of strategic business analysis. An organization must create goals and objectives. A few of the business analysis procedures include formulating a plan of action, recognizing current corporate needs, evaluating the businesses' requirements, and improving present business processes.
Business analysts are therefore highly sought in the market nowadays. Business analysts are specialists who use data to create procedures and restructure business plans to maximize a company's return on investment. Over the past ten years, there has been a huge demand for business analysts. Over the past few years, business analytics has played a significant role in many departments within companies. Apply now for a business analyst's course with Reva and see the difference it makes to your career.