Drives Success with Inspirational Leadership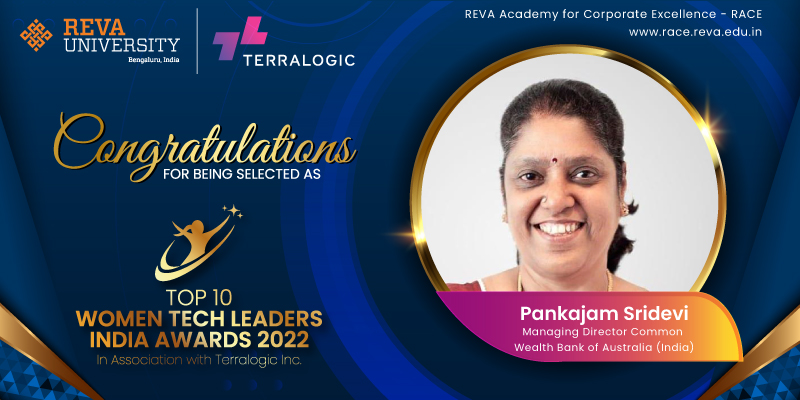 Pankajam Sridevi
Managing Director-Common Wealth Bank of Australia (India)
Pankajam Sridevi, Managing Director-Common Wealth Bank of Australia (India) has significant and diverse experience in Manufacturing, Technology, and Operations. She has led big transformational projects throughout the organization that helped in productivity improvement. She has been an industry veteran and evangelist for Automation and Machine Learning in Banking and has led several programs from 2016 onwards in this area.
Read the blog to understand more about her career journey and success.
Influential Leadership
Pankajam has led ANZ as the Managing Director for around 7 years and then managed all the offshored centers of ANZ in India, the Philippines, and China. At ANZ, she was also responsible for the data analytics team of the bank.
While working with the Commonwealth Bank of Australia, she has contributed significantly to increasing the team size. The entire organization was successfully built virtually and grown in multiple streams like Data analytics, Data Engineering, Technology, and Operations.
She is a certified Black belt in Multiple Six, Sigma Methodologies, and Lean Six Sigma methodologies from Wipro.
Pankajam has created an impact by empowering every team member to bring their soul to work and build their career aspirations in CBA. She commented on leadership, "My leadership philosophy is being humble during success and being courageous during failures. My behavior as a leader is to be accessible to everyone in the organization at any time"!
Awards and Recognitions
She had won several awards from various organizations such as Exemplary Inclusive Leader by Allegis in 2013, Women CEO of 2020 by GISR foundation, BPM achiever award by Shared Service forum in 2017, and Helen Keller award for Role Model CRO in 2016.
Social Causes
She worked as the advisor to the India Inclusion Forum, which is one of the big organizations that work with persons with disabilities and LGBT people. She has also worked extensively for the cause of women and has been on the advisory board of the Anita Borg group in India that works for building women technologists in India.
She has been instrumental in building a diverse organization that gave importance in hiring women staff. As a leader, she intends to replicate the community that we live inside the organization also.
Envisions the Future
Pankajam looks forward to a great future in technology and she plans to build CBA India by stressing on diversity and inclusion in the next few years. She wanted to inspire women to aspire irrationally by spreading her story and the stories of other inspirational leaders. She will also work on expanding academia-industry connections to build strong engineering skills in our country.
Pankajam Sridevi has been selected as the 'Top 10 Women Tech Leaders India Awards 2022' organized by RACE, REVA University in association with Terralogic Inc., for her successful endeavors in the field of technology and being a leader of change in society.