Expanding the Horizons of Knowledge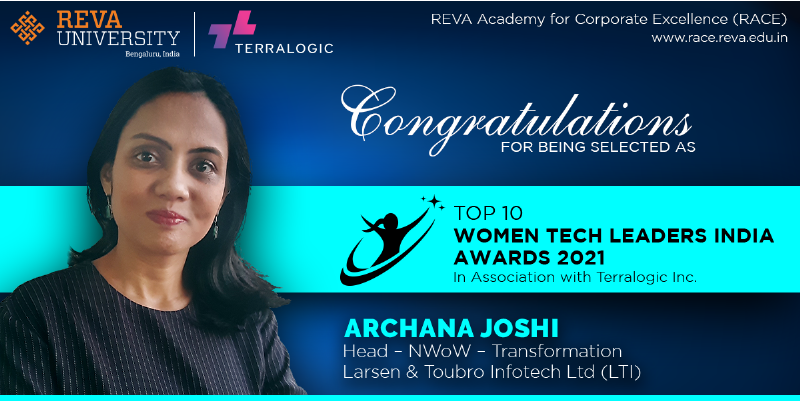 Archana Joshi, Head - Engineering Transformation, Larsen & Toubro Infotech Ltd
Archana Joshi, New Ways of Working (NWoW) – Transformation, Larsen & Toubro Infotech Ltd., brings around 20 years of experience in software engineering. As Transition and Transformation Practice Head at LTI, Archana is responsible for crafting solutions using Agile, DevOps, Design Thinking, and Automation techniques that help to deliver tangible results to both business and IT.  Archana has worked with global enterprise clients across the Manufacturing, Finance and Telecommunications domains.
Growing a Career in Tech
Since Archana is very good at mathematics and logic, she thought that a career in those domains may help her. During her teenage years, she had the initial exposure to computer education and wanted to explore it further. After finishing her 10th grade, she took electronics as the elective subject and then pursued her Bachelors in Engineering, followed by a Management Degree.
Challenges Faced as a Woman
Archana Joshi opines that unconscious biases exist within the system and it is not restricted to the field of technology. The bias might not be intentional but might be due to the deep-rooted assumptions that people make based on how they have seen society functions.
Archana cited her life experience as an example to prove this point. During her initial years of service, there was an opportunity to go to the site of a client outside India. Despite her expertise in that area, her male colleagues got the opportunity to go. She approached her manager and enquired why she was not considered for the opportunity. The manager explained that since she had married recently, he assumed that she cannot go abroad for a few weeks for the assignment. Archana not only was sent abroad but also did an exceptionally good job in completing the assignment.
She also added that people had assumptions about her availability or willingness to carry out certain job-related activities after returning from maternity leave. To tackle these kinds of assumptions, it is always important to have an open conversation and ask for what you deserve.
Lack of Women in Tech
According to Archana Joshi, women usually confine themselves only to the areas that they are assigned to them. For a successful leader, it is not about how much you know but how can you join the dots to understand the broad picture and to take decisions beneficial beyond your area of influence.
Archana remembers her early days where she was assigned as a junior developer for a telecommunications client. During that time, she was very keen to know how estimates are done, what happened in the initial scoping phase, how was the support is done, etc, which were beyond her given area of responsibility.
By expanding the knowledge horizons with an investigative mindset, she played a lead role for that project as soon as the opportunity arose. By quoting her attitude towards the career, she insisted that women should be in search of knowledge always and have a curious mind.
Advice to Young Leaders
Be curious, be inquisitive and then the sky is the limit. Technology is changing at a rapid pace and if you do not cultivate the habit of wanting to learn and know more, it is easy to become extinct soon.
Initiatives for Women
Archana has been a part of several company initiatives for women, whichever organizations she worked with and continuing the same to date. Apart from organizational initiatives, she is actively involved in the area of education for underprivileged girls.
Awards
REVA Academy for Corporate Excellence, REVA University has selected Archana Joshi for 'Top 10 Women Tech Leaders India Awards 2021' in association with Terralogic Inc. and co-sponsored by CloudxLab.  Archana is selected for this prestigious award because of her contributions to the tech world and underprivileged girls.