Future and Scope of Business Analytics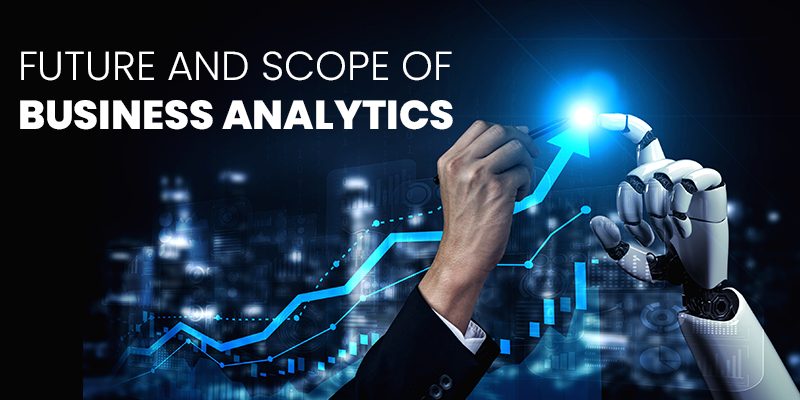 Data is the heart and soul of business analytics as data analytics is one of the crucial processes that help businesses to progress in a competitive market. Data analytics is the process of analyzing the datasets to unearth data insights and trends that enable businesses in making informed decisions for businesses. Business analytics, on the other hand, focuses on analyzing various information to bring in practical and data-driven decisions for businesses. To be precise, business analytics uses data to enhance business performance and strategies.
Based on the report published by Allied Market Research, the big data and business analytics global market size was valued at $193.14 billion in 2019, which will reach $420.98 billion by 2027 at a CAGR of 10.9% during the forecast period of 2020-2027.
As stated in the report, the big data market will see continuous growth as enterprises are investing billions into analytics, the application of data, and data visualization. Enterprises are not only investing in various technology platforms but also in people with the necessary expertise.
Exponential Growth of Big Data
In this data-driven digital world, floodgates of data are opened by enterprises on a regular basis. Machine and human-generated data are doubling at a 10x faster pace than the traditional data. The machine-generated data is also increasing at a rate of 50x. The data generation and data analysis, and the subsequent use of data in the form of actionable insights demand a complex workflow that goes beyond the data centers. A new technological approach and expertise are required for data analysis and data processing of such a humongous amount of data.
With the emergence of cloud computing and big data, a new approach has been evolved for data analysis and data processing. The combination of high performance computing (HPC), big data, and the internet of things (IoT) are classified as high performance data analytics (HPDA) by the International Data Corporation (IDC).
The HPDA market is expected to increase from US$ 48.28 billion in the year 2016 to US$ 187.57 billion in the year 2026 with a CAGR of 25.4% in the forecast period of 2021-2026.
Scope of Business Analytics
Business analytics domain is experiencing exponential growth with the explosion of big data, which will continue in the future as well. Today, data is the core of every business operation and organizations have to hire analytics professionals who can support them to make smart, wise and quick business decisions. Professionals with deep analytical skills are highly sought-after in the industry because of the lack of skilled data experts.
Business analytics offers a huge scope in the world market, especially in India. Why India? Because of the increasing number of startups and the new verticals added into various businesses, there is a huge demand for skilled people in the field of business analytics. Over the past decade, this domain has doubled its growth and grabbed a strategic position in various industries.
Business analytics has supported businesses in their exponential growth in recent times as it enabled them to cut the cost of businesses by around 20-30%. Data professionals with a Master's degree in the field of business analytics are in high demand across various industries including human resources, information technology, marketing and advertising, sales, accounting and finance, banking, IT, and so on.
The business analytics domain will be at the forefront and become robust than before, with the incorporation of data quality management, AI, customization, and many more.
Why Enterprises Need Business Analytics
Businesses around the world should understand the significance of business analytics, which has already become a fundamental part of the world of business. Enterprises can reap the benefits of business analytics than their competitors such as
Quick and accurate business associated solutions or decisions
Analyzing historical data to find the past mistakes
Planning of growth strategies
Understanding the scope and trends of the business in the future
Extracting business insights
Exploring business opportunities
Evaluating the business profits as well as performance.
Wrapping Up
MS in Business Analytics offers a huge scope in the global market, which helps working professionals to enjoy a career transition into leadership roles. The key differentiators for those who want to make a career transition in analytics roles are the ability to analyze and understand data, build business models, decipher the outcomes, use appropriate business intelligence tools, and make informed business decisions. The career options in this domain include business analyst, market research analyst, IT analyst, data scientist, healthcare analyst, and the list goes on.
Data professionals with an MS in Business Analytics possess the necessary skills and knowledge in the domain as required in the job market.