How Do Machine Learning Benefits Enterprises?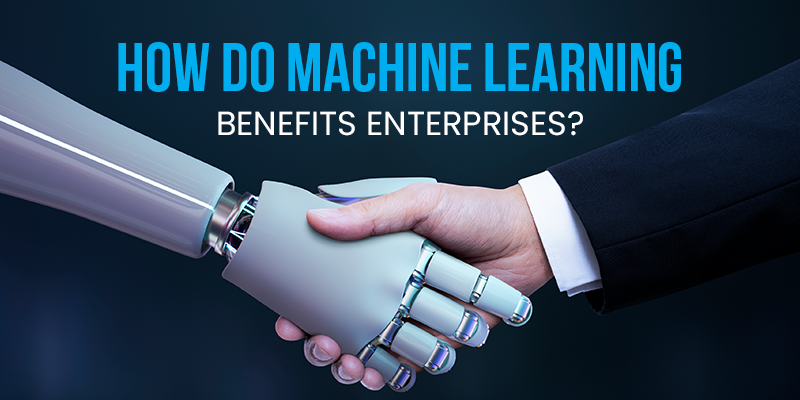 In this era of big data, enterprises require support to deal with the enormous amount of data. The huge amount of data generated by the systems on a daily basis is accessible for real-time analysis and processing. The availability of data in real-time enables enterprises to derive data insights for making swift and accurate business decisions.
How do we extract actionable insights in real-time from the data?  Manual data collection, classification, and analysis will be a time-consuming and laborious task. Machine learning can support enterprises to streamline these processes by investing less amount of time. Several enterprises are adopting ML technologies to enhance their business processes.
According to a McKinsey Global Survey, there is a 25% of increase in AI adoption by various businesses. Before adopting ML technologies, it is crucial to understand the need for machine learning and related technologies that are beneficial for the organization.
Here are the business benefits of using machine learning:
Data Analysis with Unprecedented Speed
Loads of data have been generated by enterprises on a daily basis. Processing of data is critical to extract business insights, however, manual data processing is a time-consuming and tiring task.  Machine learning applications can help in data processing as ML consumes a large amount of data to drive better outcomes. Machine learning algorithms help to discover data trends and patterns by analyzing huge data chunks.
Once an ML model is trained, it will analyze and identify the variables that provide enterprises with accurate data at an unprecedented speed. Identifying relevant data at a high speed will help the organizations to make faster and apt business decisions at the right time.
Predicts Customer Behavior
Predicting the behavioral pattern of the customers is critical for businesses around the world to increase the customer base and provide a better shopping experience. ML algorithms will analyze the purchasing patterns of the customer by navigating through the buying history of the customer and display personalized products or services based on the individual tastes of the customers.
These automated and personalized recommendations allow the customers to browse through different options and similar products that help them to make the right purchasing decisions.
Predictive Maintenance
Predictive maintenance is beneficial for manufacturing industries as they follow corrective and preventive maintenance practices. Most of these practices are incompetent and expensive. In such cases, ML plays a major role in finding meaningful data insights and the process is called predictive maintenance.
A recent study on 'Global Predictive Maintenance Market-2021' by Key Players featured current and future analyses of the predictive maintenance market. Based on the study, the global predictive maintenance market size will increase to US$ 21.2 Bn by 2027 from the value of US$ 4.1 Bn of 2020 with an increase in CAGR of 26.1% during the period of 2021-2027.
Predictive maintenance helps to bring down the redundant expenses and also the risks caused due to unexpected machinery failures.  Hence, machine learning algorithms will support manufacturing companies to schedule maintenance undertakings accurately that reduce downtime, enhance productivity and safety, and help in cost savings.
Helps in Real-time Decision Making
The decision-making process is considered as the bottleneck in several enterprises as it hinders the productivity and success of the business. Most of the time, decision-making authorities are overloaded with other key business tasks or they might be struggling hard to make appropriate decisions. Businesses have to analyze data to make smart, real-time, and context-based business decisions at the right time. The potential of big data is huge and enterprises have to use it wisely to automate business decisions.
Since the extraction of data insights is a difficult task, the incorporation of machine learning algorithms helps businesses to make the right decisions at the right time. Machine learning algorithms transform the collected data into actionable insights and integrate them into business processes. This helps the business to gain a competitive advantage over its competitors.
Addresses Security and Network Challenges
According to the 2020 State of Security Operations report by Micro Focus in association with CyberEdge Group, security operations centers (SOCs) across the world are anxious about threat detection methods. The report says that enterprises have to safeguard themselves using AI and ML technologies.
Today, enterprises are exposed to network disruptions and cyberattacks that compel them to take precautions and measures to deal with these business challenges. Organizations have to detect and prevent these challenges before it accelerates into data leakages and network outages.
Machine learning helps in building systems that identify unknown security threats and respond to these threats swiftly and accurately. ML algorithms can isolate the network intrusions and automate the right actions to solve such issues.
Conclusion
Today, ML has become an essential component of every business. Machine learning applications/algorithms allow organizations to run their businesses successfully. With its flexibility, faster processing time, adaptability, and effectiveness, ML applications are beneficial for various industries to get a competitive advantage in the business. Data analysis, predicting customer behavior, predictive maintenance, cybersecurity, real-time decision making, etc., are just a few benefits of incorporating machine learning into business processes.
Be a part of M. Tech/M. Sc. in Artificial Intelligence program of REVA Academy for Corporate Excellence-RACE, to develop hands-on knowledge and skills, which is approved by UGC and AICTE approved program.