6th Annual Convocation Ceremony of RACE, REVA University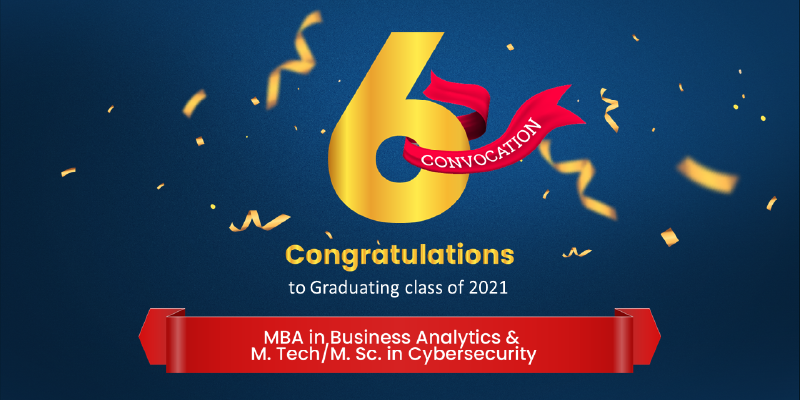 The 6th Annual Convocation Ceremony of REVA University was organized in grandeur on Wednesday, 15th September 2021 at Saugandhika open-air theatre, abiding by the COVID-19 protocols. Dr. P. Shyama Raju, Honorable Chancellor of REVA University, presided over the ceremony. Prof. K. K Aggarwal, Chairman-National Board of Accreditation, New Delhi, graced the occasion as the Chief Guest. Dr. Ashwathnarayan. C. N, Minister of Higher Education-IT and Biotechnology, the pro-visitor, graced the ceremony online.
Three thousand eight hundred students from 50 plus undergraduates, postgraduates and doctoral programs were conferred their respective degrees during the convocation. The convocation ceremony was a solemn event and proof of the tireless efforts by students and staff, irrespective of the challenges raised by the pandemic.
REVA Academy for Corporate Excellence (RACE) conferred Master's degrees to the program participants of MBA in Business Analytics and M. Tech and M.Sc. in Cybersecurity programs, Batch of 2021, during the ceremony. The graduating batch represents 30 plus marquee organizations. The Master's degree is a rewarding culmination of their commitment to continuous learning. The industry mentors of RACE have supported the participants throughout their learning journey that helped them succeed.
The program participants of MBA in Business Analytics and M. Tech and M.Sc. in Cybersecurity programs had a great learning journey at RACE that exceeded their expectations.
Kiran Muloor, MBA in Business Analytics, Batch of 2021 commented on her successful journey at RACE, "I am thankful to REVA University for giving me this opportunity where I could pursue my career. This program has helped me in gaining  knowledge in new techniques and technology associated with business analytics and data science world, which has helped me grow in my career as well.  I was working as a project manager in my previous organisation for almost 15 years, but this program has given me an opportunity to move towards data science. Now, I am working with LTI as a senior project manager where I could achieve my dreams with new career goals. This program is really good in terms of Management as well as on the Technology side of the business analytics".
Parth Pandya, M. Tech in Cybersecurity, Batch of 2021 opined, "I recommend M.Tech in Cybersecurity of RACE for multiple reasons. Primary reason is that we have industrial mentors. Second one is that the program is well-designed with capstone projects, which is better than any certification programs. During the course study, I have published two papers, one of them is publishied in a well-known journal of engineering. I have a great learning experience with REVA University. The three things that have been introduces through RACE program: one is they focus on the techniques which helps in learning, second is the procedures and tools used to teach the students, and third one is the lab facilities and infrastructure."
REVA Academy for Corporate Excellence-RACE focuses on experiential learning and creating a niche for itself in corporate education within a short span of time. The 6th convocation ceremony of RACE, REVA University was a grand success. We congratulate the graduating class and wish them the best in their career.