Supply Chain Analytics – Fulcrum of Every Business
Introduction
The logistics and supply chain management (SCM) field is the most dynamic and living part of an organization. This has been evident over the last 60 years. The field has advanced from physical distribution, as it was defined in the early 1960s, to what is now generally considered a function that encompasses the entire organization, Where the focus was on striving towards 'strategies for reducing cost and improving service', the emphasis has shifted to ensuring a strategic, reliable and predictable service.
The field of Supply Chain has now been bolstered by the advent of Big Data and Analytics as is evident from its share of the Analytics market.
Currently, Business Analytics is a $25BN global market.
Of which Customer Analytics, CRM and Social Media Analytics contribute around 40%, Operations & SCM contributes 40%, Finance & Stock contributes 15% and People & HR contributes 5%.
Though it has 40% of the total share, in terms of day to day usage and value to business it contributes more than 60% of the entire analytics employed by Companies.
Hence the interest was shown by Big companies like SAP, Oracle, Microsoft, GE, Google etc. to come out with newer and better solutions in the space of Supply Chain Analytics. In fact SAP has made several acquisitions in recent times to augment its SCM capabilities with the add-on of Big Data and Analytics tools and applications.
The Business Backbone
The below figure demonstrates why the understanding of Supply Chain is imperative to business execution and thereby the success of every business.
Strategy drives Execution and Execution feeds back into Strategy to course correct. The three pillars of the company – People, Process and Technology – are employed for the Strategy and Execution.
Four entities further detail the Strategy-Execution Cycle – Finance, Operations & HR, Marketing & Sales and MIS. All with a purpose to deliver products and service to the Customers.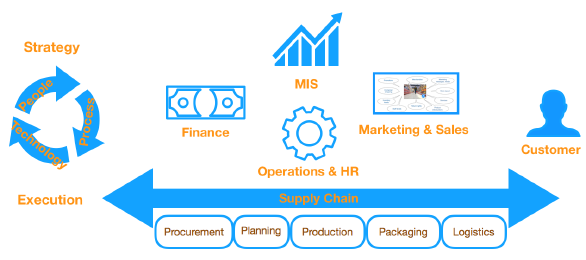 Supply Chain becomes the all-encompassing entity which touches and influences all elements and pillars of a Company.
If Strategy, say, is to Launch the new Tesla car in India then right from the decision to Import it or Make it, to Delivering it to the customer gets determined at the Execution level by the Supply Chain in India.
Right from Procurement to Production to Packaging to Logistics and final Delivery every element of the Business Strategy gets reflected in these entities of Supply Chain (SC).
One another important thing is the MIS mentioned above, which is where the data gets collated and analyzed to present Descriptive reports and dashboards.
The data or information for such analysis stems from the Executional systems. Even whether the right talent and skillsets are required or are available can be determined by the SC functioning and Metrics.
Most of the MIS is Lagging information, but the happening on the ground gives immediate clue on what is going right and what could go wrong. This is the Leading information, which helps in Predicting possible issues and mitigating them with Prescriptive measures. Supply Chain Analytics plays the most important role in establishing this baseline for Predictive and Prescriptive Analytics.
Is Supply Chain only limited to Manufacturing?
Most often Supply Chain gets fixated as a Manufacturing domain-related process. But this is nothing but farther from the truth.
Supply Chain is universally existing and applicable. Right from your Home to the Grocery store you buy your monthly essentials to the Hospital where you undergo treatment, to the Schools where you send your kids for learning.
Supply Chain Analytics is applicable across all Industries and domains. One just needs to identify what are the various entities and how they interact along the Value Chain (called so, as it adds value at each step of the entire chain).
For example if one looks at a Hospital SC then the patients become the Input to the SC. Patients undergo various services across the various entities of the Hospital like Diagnosis, Tests, Surgery, Physiotherapy etc. Finally they come out treated with better health.
Learning Supply Chain Analytics
One of the most important missing needs of the modern Supply Chain and therefore for the Business Analytics in general is 'Skills'.  There exist a plethora of data scientists armed with various tools and techniques but most lack its application to a Business Context. Similarly domain experts find it challenging to grapple with the 'Big Data' generated in a Supply Chain and derive the right insights from it.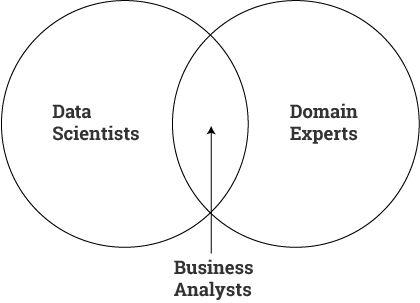 A  Business Analyst is proficient in both managing Data and Domain. Expertise is achieved over a while but the immediate Role need of the Data – Domain interlocutor and Insight provider is met with. The biggest weapon in a Business Analyst's arsenal is the 'Approach' devised and followed for any problem, project or Business level issue.

Though the above Approach steps appear simple they have a profound impact in approaching problems irrespective of the Domain and Industry. This alleviates the most common question and fear among the students of Supply Chain Analytics and the existing crop of SC practitioners on their lack of knowledge and experience as a Data Scientist or a Domain Expert.
This Approach employs multitudes of tools to solve Business Issues and corresponding Analytics requirements thereby boosting the confidence of even amateur Business Analysts.
Trends and Career Prospects
One of the greatest trends in Supply Chain Analytics is the use of technologies like Block chain, AI / ML and IoT.

Block Chain per se will be one of the most widely used platforms in all Supply Chains in the near future. Especially when dealing with the Supplier side of transactions.

AI / ML will form the base for all mundane transactions and decision making. This would take care of most of the workflow inputs and interventions at the transaction level and decision making in real-time basis, leaving more time for SC practitioners to better plan, derive more insights,  and research on future trends in Supply Chain.

Internet of Things (IoT) devices will become the bedrock for all SC communication, data point collection and real-time analysis. Right from Building Analytics, to SC entity hand-shakes to Smarter Cities, the applications of IoT will keep multiplying and will be tuned to work seamlessly with all technologies across the Supply Chain.
Companies and Markets grow globally so also grows their needs for SC Analytics talent. With the "Make in India" mantra and the big daddies like Apple, Tesla and others opening Shop, the need for Business / SC Analysts become all the more crucial in the Indian SC ecosystem.
Positions can start from SC entity-specific Analyst, like, Procurement Analyst to leading the entire Supply chain Analytics. A recent study indicates that in the coming years being a Business / SC  Analyst will be imperative to lead a Business unit and hold positions at CXO levels.
The RACE ADVANTAGE
REVA University's Business Analytics program from REVA Academy for Corporate Excellence (RACE) provides a holistic platform to train, develop and nurture Business Analysts.
One of a kind program in India which not only emphasizes on teaching and training from Statistics to Advanced Analytics but also in imparting knowledge in various Business areas like Supply Chain, Marketing, Finance etc.
Apart from Assignments and Capstone projects, which help with hands-on experience, RACE mentors its students in presenting at various International Forums held at IIM Bangalore, IISc etc. It mentors students beyond the course completion and supports them in providing opportunities with Corporates.
No wonder it's the MOST SOUGHT after 'Business Analytics' program in India!
AUTHORS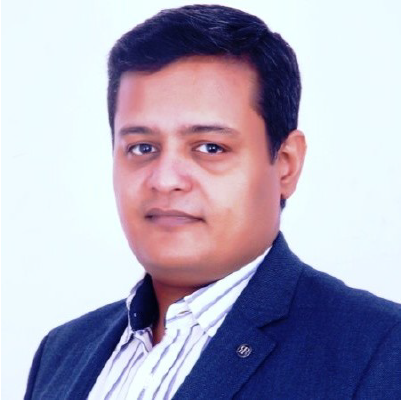 Prahlad Karnam
Founder and CEO, People Cube
---
Prahlad is a Strategist, Industry Leader, Change Expert and a Leadership Coach. An alumnus of Columbia Business School and Harvard with 20 years of experience, he has led several engagements and business units globally guiding companies in their Business, Operations, IT and Analytics Strategy and Execution. In his current avatar, he is working with a team of experts in helping organizations achieve the best people outcomes with the aid of analytics and AI. An avid reader and exponent of new age ideas and technology, Prahlad believes in sharing and spreading his experience by way of teaching at Universities and Mentoring entrepreneurs in their journey to growth and excellence.