Top 10 Women Tech Leaders Awards 2021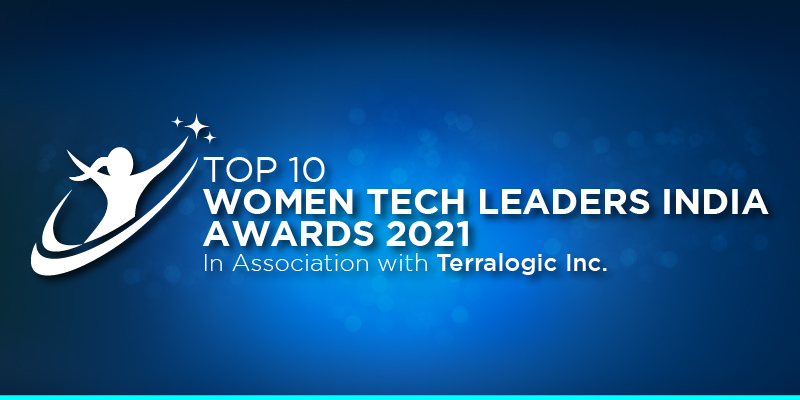 Women in Leadership: Top 10 Women Tech Leaders India Awards 2021 by RACE, REVA University and Terralogic Inc.
UN has announced the theme for International Women's Day that falls on 8th March 2021 as 'Women in Leadership: Achieving an Equal Future in a COVID-19 World'. This theme is brought out by the UN to celebrate the efforts of girls and women across the world in shaping an equal future and recovery from the pandemic.
Women's Day is observed throughout the globe on March 8th every year, which is aimed to eliminate gender discrimination in every walk of life. The focus is given to achieve equal participation of women in global development.
To support the theme, RACE, REVA University in association with Terralogic Inc. is recognizing the 10 super talented women in the technological world across India by giving away the 'Top 10 Women Tech Leaders India Awards 2021' on 8th March 2021 in a virtual event.
Women as Changemakers
Women who adorn key leadership positions in technology are comparatively less in several enterprises. They face several obstacles in their journey to leadership positions such as gender bias, male-dominated workplace and shortage of women role models in leadership positions. Yet, you can find women who possess great leadership qualities and decision-making power in topmost tech positions.
These women who paved their way to excellence have demonstrated the right skills, knowledge and decision-making power and emerged to the level of changemakers in their respective organization.  To be a changemaker in an organization, they have managed several roles in the workplace and crossed the hurdles created by age-old perceptions of the society.
What makes them different? Women leaders stand out by bringing a positive environment in the workplace with empathy, multitasking, open communication, and open-mindedness.
Top 10 Women Tech Leaders Awards 2021
RACE, REVA University and Terralogic Inc. initiated this awards not only to encourage women who have projected their exceptional leadership qualities in the technological space but also to inspire new women leaders in the making.
The nominees and awardees are finalized by a panel of jury members who are the industry veterans. The awards will be presented to the awardees at a virtual event on Monday, March 8th 2021 at 6 PM.